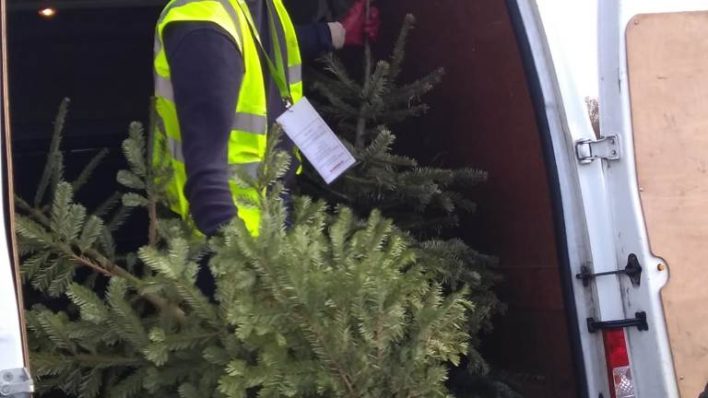 In just 3 days over 2500 pre-loved Christmas trees were collected across Cambridge City and surrounding villages with the support of generous supporters, volunteers and local businesses.
Residents in postcodes CB1, CB2, CB3, CB4, CB5, CB22, CB23 and CB24 were invited to register their tree to be collected in return for a donation to Arthur Rank Hospice Charity. Those who wanted their pre-loved tree to be recycled and avoid the hassle of messy pine-needles, registered their tree to be collected in return for a donation to the Charity.
On Thursday 9, Friday 10 and Saturday 11 January 2020, teams of two or three volunteers in fifty or more vans, made their way around the streets of Cambridge and surrounding areas, picking up trees from pre-registered addresses. Once stuffed full, the vans reconvened at designated collection points, where they were emptied and loaded onto larger 'sweeper' lorries generously loaned by G.Webb Haulage, Mead Construction, FDS Cambridge Ltd and Z-Tech.
The trees were eventually either chipped with thanks to Brookfield Contracting, or composted at Cambridge City Council's Amey Cespa waste management depot in Waterbeach. A few trees collected from Harston and Foxton were taken to a local farm in Fowlmere, where the goats enjoy a tasty Christmas tree or two. Un-baa-lieveable! Oliver Hussack was one of the volunteers who delivered the goat-food (!) and is so passionate about getting involved in the scheme that – having moved out of the area – he stayed overnight in a local B&B so he could take part in all three days.
He comments: "I know Arthur Rank Hospice Charity have a number of events through the year but this is my favourite! I think it's probably because it draws a close to Christmas, but also what I adore about it is just the camaraderie of doing something with purpose: it's a great initiative because it raises money for a great cause and helps the environment as well".
Chloe Christine-Wallis, Community Fundraiser, added:
"We're so delighted with how our treasure hunt for Christmas trees has gone this year.  In 2016 when we started the scheme, we collected just over 400 trees which raised around £3,700 and since then it's gone from strength to strength. It's incredible to think that in our fifth year we've now raised ten times that amount!  We're so grateful to everyone who has got involved, from those who have registered their trees for a donation, to those who have supported by lending their time, vehicles or location for collection points."
90% of the funds raised will help fund Arthur Rank Hospice Charity's care and support to those living with a life-limiting illness in Cambridgeshire, with 10% donated to a local cause nominated by those who volunteered to help with the tree collection.  The Hospice needs to secure £8.6 million every year to deliver its services free of charge to patients and their loved ones, of which only about half currently comes from commissioned income.  The Charity is hugely grateful to the local community which contributes the remainder and whose support with initiatives – such as the Christmas tree recycling scheme – is critical in helping make every moment count.
Many of the volunteers shared their photos from the 'tree-asure' hunt on Facebook with the hashtag #treecycling. You can view the Facebook photo album here and the highlighted Instagram story here.
Arthur Rank Hospice Charity would like to extend it's grateful thanks to every single one of the volunteers involved in the collection scheme and its promotion; Cambridge Vehicle Rentals (CVR) who loaned four vans free of charge; Cook, Curtis & Co who donated £300 towards vehicle hire, UK Rapid Relief Team who supplied the volunteers with a free lunch and each of the very generous local companies who supported the scheme who are too numerous to mention but whose support is thoroughly appreciated; Amey Cespa at Waterbeach and Cambridge City Council for their support in recycling the trees.
That's West Anglia TV came along on the Friday of the collection and spoke to our Director of Fundraising and Communications, Donna Talbot, as well as some of the volunteers involved.
You can watch our starring moment again, here:
If you would like to help by volunteering or sponsoring the Hospice's next annual Christmas tree recycling scheme in January 2021, please email fundraising@arhc.org.uk or call 01223 675885 to register your details.