Unbe-leaf-able cyclist volunteer shares her story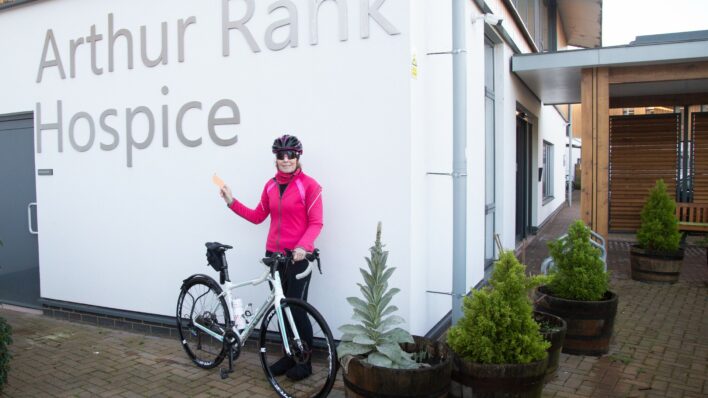 You may have noticed our Memory Tree in the main reception at the Hospice at Shelford Bottom. It is adorned with bronze, silver and gold coloured brass leaves with the names of loved ones engraved on them. It is one of the tangible and beautiful ways to remember a loved one offered via the Charity.
We caught up with one of our volunteers, Chrissie Hunter, who explained her contribution to the Charity and Memory Tree.
What is your volunteering role for Arthur Rank Hospice Charity (ARHC)?
I am a Volunteer Cyclist – I pick up the blank leaves from the Hospice, for the memory tree, to be engraved and cycle them across to Timpsons in central Cambridge, where they kindly engrave them free of charge for the Charity. I can get in and out of Cambridge very quickly on my bike, I don't sit in heavy traffic jams or have to pay parking fees.
How long have you been volunteering for ARHC?
Around five years, I started when the Memory Tree was put up in the Hospice's new building after the move in 2016.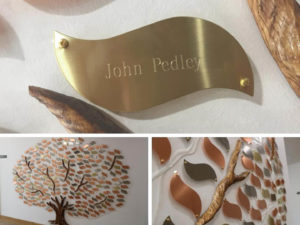 How often do you cycle?
I cycle for the Hospice sporadically, whenever they have a leaf to be engraved. I cycle around 120 miles a week. Last year I cycled the furthest in a year and achieved my target of 6,300 miles.
I cycle all year around and aim to ride 800k per month, although in the winter my journeys are shorter but more frequent. I prefer to cycle in the summer when the weather is warmer when I can cycle further each ride, usually around 70-80 miles at a time.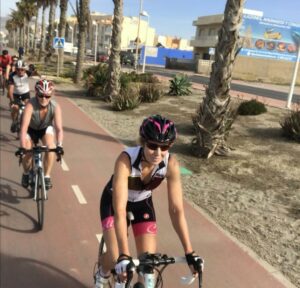 When did you start cycling?
I started cycling in my 20's to get fitter. I have had Asthma and type 1 Diabetes from childhood – I was often in hospital due to asthma attacks. I know now that keeping fit helps me to stay well too.
I slowed down a little when I had my daughter, but as soon as it was safe to do so, I put her on a seat on the back of my bike and as she got bigger on a tag-along bike and we all cycled as a family. She is in her 20's now and although she did join me on a 50 mile cycle ride recently I'm not sure she has the same passion for it as myself!
Tell us more about your favourite cycle rides
One day I met a man who told me he had cycled from Lands End to John O' Groats for his 80th birthday. I thought 'if he can do that, what's stopping me?' So I went on to cycle the 1000 miles over 13 days to celebrate my 50th birthday and found that the UK really is a beautiful country.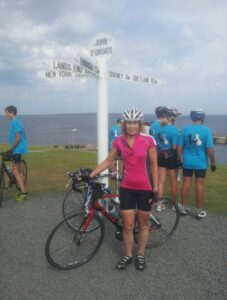 I met a great group of people and now every year we choose a 7 day cycle tour in a different country – I have cycled in Belgium, Slovenia, Spain (Pyrenees and Andalucía) and Italy so far! I had to put Portugal on hold since the pandemic, so Portugal and Poland are booked for 2023 and this year is Germany.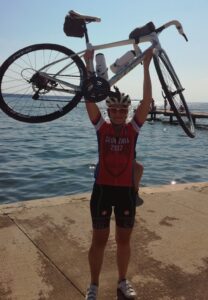 Do you enjoy any other sports?
I used to run a lot. When I was 40 years old I ran the London Marathon. I then went on to run The Great North Run (three times). I suffered some injuries after a cycle accident so I hung up my running shoes and took up walking.
I've walked the 25 mile Yorkshire 3 peak challenge twice, I have also trekked and climbed Ben Nevis, Scarfell Pike (several times but always in bad weather!) and Snowdon (my favourite mountain). I then decided to complete the National 3 Peaks Challenge in 24 hours – in June, in horrendous weather, which was toughest challenge I have ever done.
About 5 years ago I got a book called '100 Greatest Cycling Climbs in the UK' by Simon Warren. So far I have completed 54 of them and I am determined to climb them all in my lifetime. The climbs are dotted about all over the UK and it has taken my family and I to places we would never have thought to visit.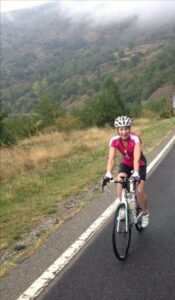 I also enjoy marshalling at running events for various charities – I love seeing all the runners and cheering them on.
I practice yoga every day (including Christmas Day).
Are you a Tour De France fan?
I do watch the Tour De France but I prefer to be out on my bike rather than watching TV. Mark Cavendish is my favourite Tour De France Cyclist. I have been known to cycle to a cafe in Essex known as a 'hang out' for professional cyclists to see who I could bump into! Also the cake is excellent.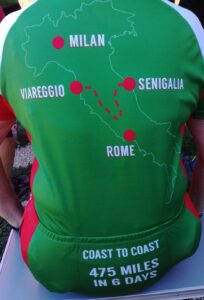 What do you enjoy about your volunteering role?
I am aware of the difference Arthur Rank Hospice Charity has made to the patients and their loved ones when they need it the most. A colleague of mine from Lensfield Medical Practice, where I am the Finance Officer, was cared for at the Hospice. Since Lockdown I have been working from home and I have reduced my hours so this gives me even more time and purpose to get out on my bike.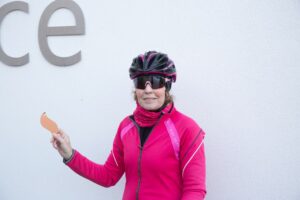 Volunteering gives me a great reason to get my bike out and keep fit and active.
What would you say to anyone else who is thinking of volunteering?
Put your name down and do what you can, as you never know when you or a loved one are going to need the services from the Charity.
If you would like to know more about The Memory Tree or other ways to remember a loved one please contact contact Rachael on 01223 675881 or email r.brown@arhc.org.uk
If you would like to find out more about becoming a volunteer for Arthur Rank Hospice Charity please see our current volunteer vacancies here: arhc.org.uk/join-us/volunteer-opportunities/