Two #TeamArthur colleagues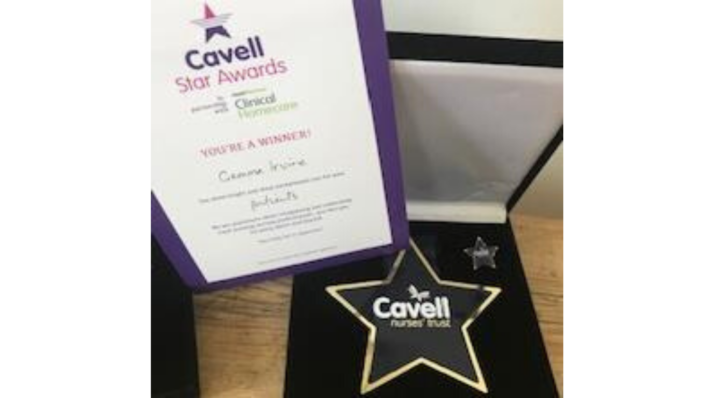 Day Therapy Clinical Nurses Specialists, Katie Williams and Gemma Irvine have been recognised for going above and beyond in our Day Therapy service.
Our Team Leads, Sue Rossitter and Emma Hartley, shared more about why they are so deserving of the awards:
"Katie Williams and Gemma Irvine were recently presented with The Cavell Star Award to recognise and congratulate them for their services in Day Therapy.
The Cavell Star Awards is a national awards programme which awards nurses, midwives, nursing associates and healthcare assistants who show exceptional care to their colleagues, patients or the patients' families.
Katie

Katie Williams was awarded for going above and beyond for her colleagues and their well-being. On two separate occasions, two staff members in Day Therapy became acutely unwell and had to be taken into hospital.
Although the response to these incidences were a team effort, everyone looked to Katie, who remained calm, efficient and very responsive putting everyone at ease. Although she will underplay it, Katie was amazing in these scary situations. She continues to look out for the team's well-being, always making time to check in on people and ensure no one is heading for burn out, as well as organising a chocolate goody drawer for the days when staff need a little pick me up!"
Gemma

"Gemma Irvine has also been recognised for going above and beyond for her patients. In particular for supporting an MND patient and advocating for him, when his distressed family dropped him off at Day Therapy in Carer Crisis. Again a team effort, but Gemma strongly supported this patient and his family through such an upsetting situation. 
Gemma, along with the wider Hospice team, managed the situation so well, that when the patient re- attended for his next Day Therapy program, both he and his family commented "it was like coming back to be greeted by family" and the support meant so much to them all.
This is just one example of how Gemma goes the extra mile for our Day Therapy patients. The Day Therapy Team are so proud of them. Both were thrilled their excellence has been acknowledged by these awards. Once this lockdown period is over, we look forward to presenting the awards to them in person!"
If you would you like to share a thank you message for any of our teams at #TeamArthur please see our news page here: https://www.arhc.org.uk/hospiceheroes-online-pin-board/