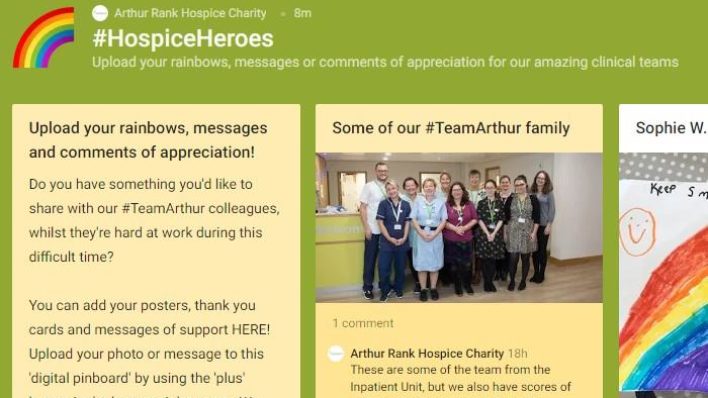 Do you have something you'd like to share with our #TeamArthur colleagues, whilst they're hard at work during this difficult time?
We are very pleased to launch a new online #HospiceHeroes pin board on a website called Padlet, where you can add your posters, thank you cards and messages of support.
All you need to do if you would like to add to this, is click on the link HERE or scroll to the green virtual notice board at the bottom of this page, then click on the the pink circle with the white plus inside it.  You see this when you scroll towards the bottom of the 'padlet'. (You do not need an account, but please be aware that any details you share will be public.  Also please bear in mind that we have to approve all additions, so there may be a delay between you uploading something and it appearing, especially if it is a week day or an evening!).
Feel free to be creative! You can upload photos, messages, short videos and even voice messages! Anything that will brighten up our colleagues' day. We also plan to share the messages and photos we receive through social media on here too, so please keep checking back either to the Padlet page or this newspage!
Your warm messages and colourful rainbows will be displayed here throughout the COVID-19 pandemic, and printed at the Hospice, for our colleagues to see.
They tell us that they have really appreciated all your kind words and photos so far: they have really lifted spirits and given them a boost – so thank YOU and please keep them coming!
If you would also like to find out about our 'SOS!! Support Our Service' appeal please CLICK HERE
For information about how the Hospice is reacting to the COVID-19 pandemic, please CLICK HERE