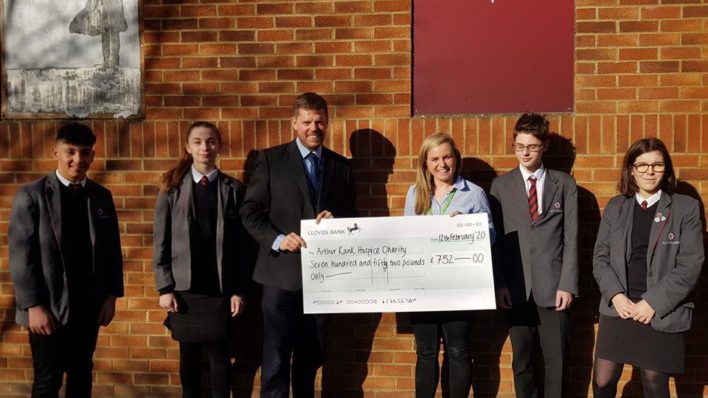 For another year, the Arthur Rank Hospice Charity were the lucky chosen charity by students from Scott House at Ely College!
As part of the college's successful PLEDGES project, an Awards system that offers student's opportunities to enhance their learning and development, Ely College held a fundraising day on Thursday 19th December to raise money for their chosen charities.
In the lead up to the fabulous day of fundraising before Christmas, students brainstormed innovative ideas and prepared a variety of stalls in a bid to raise as much as possible! The fundraising day was a real success and students raised an incredible £752.26 for Arthur Rank Hospice Charity!
One of our Community Fundraisers, Bethany Brown, was lucky enough to meet with a few students from Scott House at Ely College for a cheque presentation. She commented: "We feel very honoured to have been selected for another year by the students in Scott House. It was an absolute pleasure to visit Ely College, meet with some of the students and talk about their fundraising. They have raised an amazing amount of money and this will make a significant difference to our patients and their families. Thank you so much for your fantastic support."
From everyone at Arthur Rank Hospice Charity, we would like to extend our thanks to all students from Scott House, staff at Ely College and the wider community for their super support.
If you have been inspired by this story, we would love to hear from anyone who might be interested to support us in a similar way. To contact the fundraising team about working together, please call 01223 675888 or email fundraising@arhc.org.uk