Reflections on the impact of COVID-19, with our Director of Clinical Services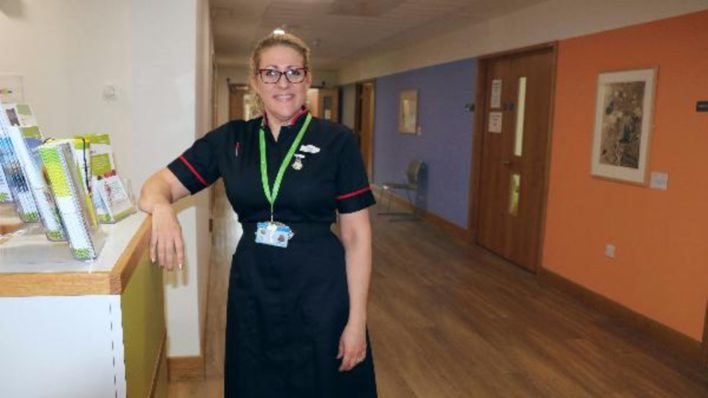 In response to the COVID-19 pandemic, the Hospice had to rapidly adjust its services. Some services had to be paused, reduced, or offered in a different (often video or telephone) format in order to protect the safety of patients; other core services were rapidly expanded to help cater for the pressing healthcare needs of the County.
Our Director of Clinical Services, Sara Robins, took a moment out from her busy day to give us some insight into how things have evolved at the Hospice since the pandemic hit.
As difficult as this time has been, what are the positives that you have already witnessed?
I have been so impressed with the way in which teams have pulled together. They have worked differently to support our patients and those who matter to them, as well as supporting each other.  I've been impressed at how I've managed to get to grips with online meetings such as Teams and Zoom and how connected I have felt, despite being in lock-down.
What do you miss most as a result of your team having to adopt new ways of working?
I have missed being able to spend time with the clinical teams. When COVID-19 first hit and during lock-down I had to work from home, to help minimise the footfall in the Hospice. I miss bumping into people I wouldn't normally meet in my day-to-day work, such as Fundraising, HR, Estates and Finance teams. Having "chats" in the staff room. I miss seeing our wonderful volunteers!
What has recently surprised you about your colleagues?
I have been surprised by how quickly we have adapted to the virtual world of communicating and how resilient and proactive the teams have been to focus on new ways of supporting patients, and those who matter to them. Also, the "can do" attitude of staff in supporting each other and working together under this enormous pressure, in circumstances that we have never experienced before.
What is your favourite piece of feedback you received recently?
There have been some lovely comments from patients. I recently spoke to a family who we provided Hospice at Home night care to.  They said that they would have gone into crisis had we not have been there to help them cope at night. I also recently spoke to our CQC Inspector who also commented on how impressed he had been with our response to COVID-19 and how we, as a Hospice, have adapted services to provide safe care to our community in Cambridge, at the Alan Hudson Day Treatment Centre in Wisbech, and across the county in people's homes.
So far in 2020, what has been your most memorable moment at Arthur Rank Hospice?
Goodness! There have been lots. I suppose for me, on a personal level, it was the feeling I had when I returned to the Hospice after working from home since March. It was so quiet and felt so strange. I miss the buzz of people being in the Bistro, patients laughing in Day Therapy and seeing our wonderful volunteers busy doing things like flower arranging or serving drinks on the IPU. It will be nice to slowly see more activity when it is safe to do so.
What do you hope to achieve in Clinical Services by the end of 2020?
We are in a period of extraordinary change. Not only are we massively expanding our Hospice at Home service, we are doing so in the midst of a pandemic. By the end of the year I would like to achieve the implementation of our newly expanded Hospice at Home service across Cambridgeshire, caring for more people in their own homes. Really helping to make every moment count!
If you would like to find out more about our care services, please click here.