Raise some festive cheer at the end of an unusual year!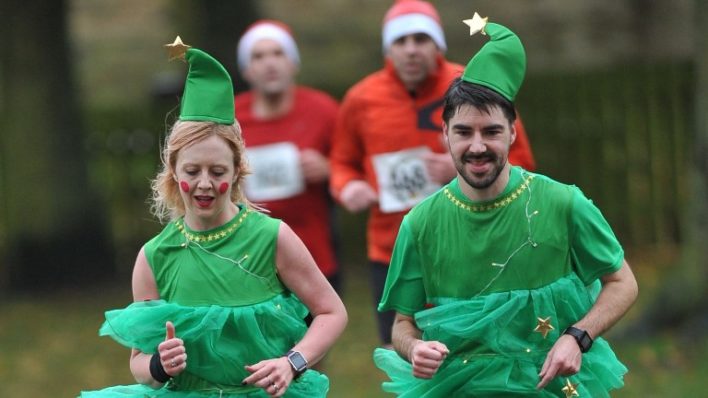 Arthur Rank Hospice Charity is inviting you to raise smiles and a bit of festive merriment wherever you live, by taking part in the Festive 5K, sponsored by Price Bailey Ely and Busy Bee Recruitment. Runners in festive fancy dress or Santa hats will set off simultaneously, in their own home-towns – at 10.30am on Sunday 22 November.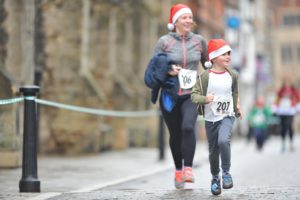 The well-loved fun run is one of the Charity's annual events. It raised £22,000 last year, to help fund vital care to those living with an advanced serious illness or other life limiting illness and those who need end of life care.  It is hoped that this 10th anniversary year can still raise £10,000 for the Hospice's front-line care, despite the unavoidable challenges created by COVID-19 and new restrictions brought in for England's second lock-down.
Nearly 300 have already signed up to take part. Those running, walking, skipping, wheeling or pushing the 5K fun run will, of course, need to abide by government guidelines in place at the time.  As of now (Friday 13 November), this means using the run as your daily exercise opportunity, either with your household, by yourself, or with one other person having arranged a rendezvous point in a public place or park.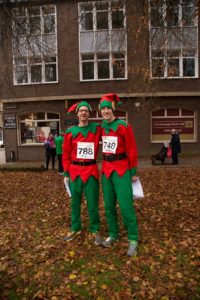 Arthur Rank Hospice Charity is hoping that many people will take this special opportunity to raise some festive spirit and merriment in their hometown.  In previous years participants have pulled out the stops with their festive fancy dress efforts, with outfits varying from tinsel-tousled Christmas trees to round Christmas puddings, sparkly fairies to colourful Quality Streets, sticks of stripey candy canes to spritely bell-footed elves.  Serious runners (in Santa hats!) will also enjoy being able to monitor their time and position via the event's Strava-based leader board.
2020's event cannot start in its usual impressive location within the grounds of Ely Cathedral, due to obvious reasons.  However, adapting to the unusual circumstances we find ourselves in, means there's no limit to the number of people who can take part: an unexpected silver-lining for wannabe runners who previously missed out on a spot (traditionally the fun run has sold out weeks ahead!).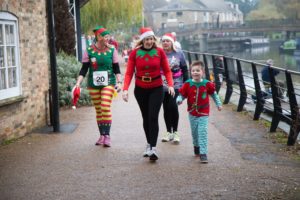 Angeline Liles, Events Officer at Arthur Rank Hospice Charity adds:
"It's very much 'the more the merrier' with our' Festive 5K, and we encourage you to consider taking part if you can, wherever you live!  Brilliantly, the fun run (and training towards it) can form part of your exercise activity and provide motivation to get out into the open air as the evenings draw in and temperatures become colder. It's also a unique opportunity for you to do something out of the ordinary to help bring some festive merriment to your area of Cambridgeshire. 
 If you have not signed up yet, please do consider taking part. You can walk, run, skip, jog or wheel around your chosen route and – whilst you will need to keep a distance from anyone who sees you – imagine how much merriment you might add to a passer-by's day when they see you waddling past them as a penguin, sprinting in a Santa hat, prancing past as a reindeer or plodding on by in Christmas pudding costume!  It's the sort of special moment we all need right now to keep us buoyant at a difficult time… and best of all its raising funds for front-line care in our County."
In the build-up to the fun run starting, there will be videos and words of encouragement from the Mayor of Ely, Santa Claus, and Hospice team members on the Charity's Facebook Event Page. A warm-up and countdown will ensue, before participants set off, simultaneously, at 10.30am, wherever they are.
If you are taking part (or even just wish to encourage and cheer fun runners on!) you can join in the pre-event build up, chatter, and excitement of the Festive 5K online at the Facebook Event Page (https://www.facebook.com/events/747296572780083).  You are also invited to share your photos and experiences on social media on the day of the event, using #ARHCfestive5k and tagging Arthur Rank Hospice Charity.
To sign up visit arhc.org.uk/festive5k or call the Charity's event team on 01223 675888.  Registrations received before midnight on Wednesday 18 November will receive a Runner's Pack in the post, including a Santa hat, runner number, and festive treats to help you on your way. Places are £10 for adults and £5 for children under 16 and participants are invited to raise as much as they can in sponsorship. Please note that current government guidance must be adhered to, you are responsible for your own safety and children are to be accompanied by an adult at all times.
Thanks to Neil at Cambridge 105FM who invited our Events Officer Angeline and regular participant Jenna onto his show, to find out more. Listen again by clicking on the play button below!