Nursing and Midwifery Council visit Arthur Rank Hospice Charity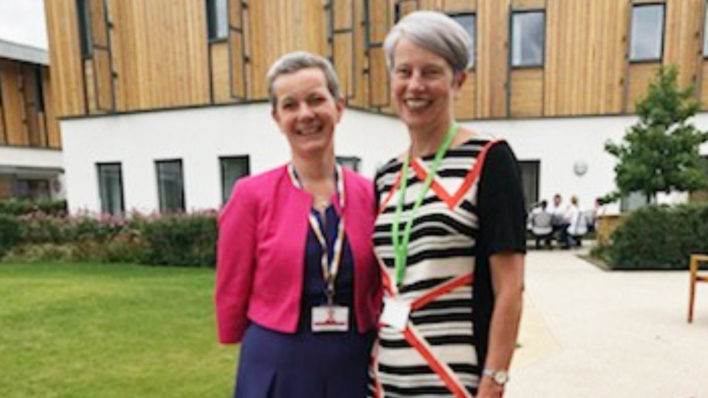 Nursing and Midwifery Council (NMC) and Director of External Affairs
Arthur Rank Hospice Charity's CEO, Sharon Allen OBE, was pleased to welcome Andrea Sutcliffe CBE, the Chief Executive of the Nursing and Midwifery Council (NMC) and Director of External Affairs, Edward Walsh, earlier this week (Thursday 18 July 2019).
The NMC's visit comes as the organisation continues to meet professionals, partners and the public, as part of the process to help formulate its next five-year strategy, ensuring it meets everyone's needs.
Their visit followed another to Sawston Medical Practice, which was also attended by Ruth May, the Chief Nurse of England. The NMC's new strategy will be launched in April 2020.
During their visit to the Hospice 
During their visit, Andrea Sutcliffe and Edward Walsh spoke to the Matron of Arthur Rank Hospice's Inpatient Unit, Carly Love, and the Matron of the Arthur Rank Hospice's Community Team, Lorraine Moth, about their work.
After hearing about the invaluable work of the In-patient and Community based teams and some of the daily challenges they and their nursing teams face, the visitors were given a short tour of the Hospice; which moved to its state-of-the-art home in November 2016.
Andrea Sutcliffe comments of her visit to Cambridge:
"I want to thank Sawston Medical Practice and the Arthur Rank Hospice for giving us such a warm welcome. It gave me a valuable opportunity to hear from nursing professionals making an inspiring difference for people using primary care and hospice services. 
Their stories are a humbling reminder of how important it is for us all at the NMC to understand how we can help nurses provide the best, safest care possible for the benefit of local communities."
Sharon Allen adds:
"We were delighted to welcome Andrea and Edward to visit Arthur Rank Hospice, to show them how our brilliant nurses and all our colleagues support people with a life-limiting illness or who are at the end of their lives.
Our mission is to make every moment count and we are delighted that the NMC is supporting nurses and Nursing Associates to do just that."