More colleagues return to the Hospice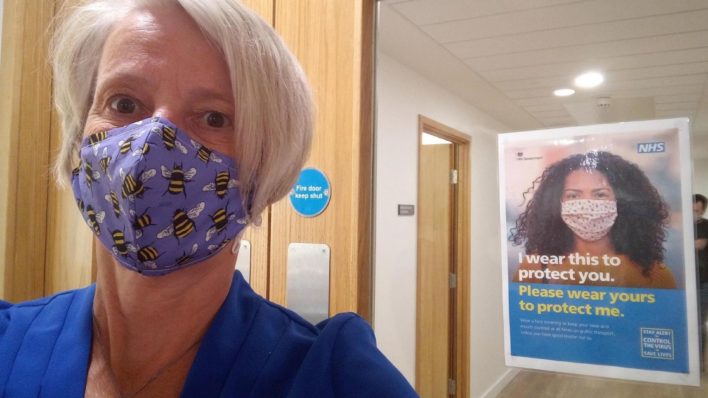 Over the past few months, like many organisations across the world, we have asked colleagues who do not need to work in the office to work from home. In a Hospice, there are many roles which can't be undertaken from home and we remain exceptionally grateful to all our colleagues who have come to the Hospice or to the home of patients in order to provide care.
For those who have worked from home, we recognise that dining tables have become desks, office colleagues have been replaced with children doing their schoolwork and face to face meetings have become video calls.
It has been amazing to see everyone adopt these new ways of working. Wherever and however people have been working, none of it has been without challenges. However, as they always do, #TeamArthur has continued to pull together to ensure that we keep our services running for our patients and their families, whilst many things around us have had to be placed on pause or re-configured.
As we learn to live and work in this new way, we recognise it is important to also look at how we now start to welcome colleagues back the Hospice. We have been busy talking with colleagues to form a plan to invite more people back slowly and safely to their offices. This has been a huge undertaking involving risk assessments (a selection of which can be found here), surveys to find out how people are feeling about this change and also the lengthy process of auditing and sourcing equipment so we have access to what we need, whether based at home, in our offices or a blend of both.
With this all complete, and a working group formed to support managers, so we can ensure that we continue to listen to our colleagues and respond to this ongoing learning, we are delighted to confirm this plan commenced on 1 September. We have also been busy undertaking risk assessments with our fabulous volunteers and working together to plan for when volunteers can return to roles within the buildings, as well as thinking about new and different roles. We realise that we will need to keep evolving our plans and reacting to the situation around us; for the moment at least. I and those who have been working at the Hospice and Alan Hudson Day Treatment Centre throughout will be delighted to see our colleagues walk back through our doors and I know our patients and families will too!