Mike Maran: Why I'm travelling from Cambridge to Rome on a scooter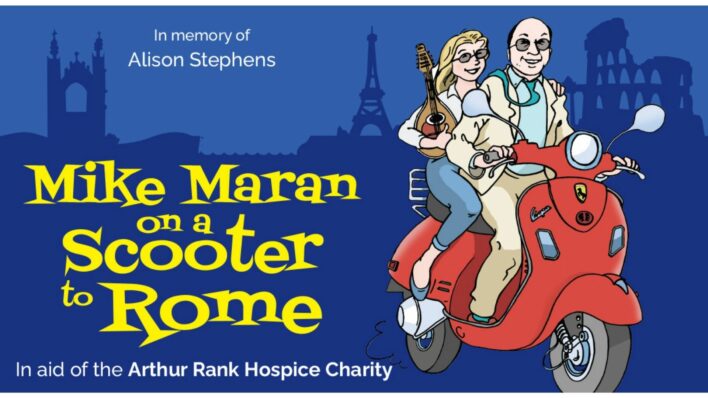 We have a lot of supporters that fundraise for Arthur Rank Hospice Charity and we love the idea of fun and quirky.  Our latest fundraiser is all of that and is about to set off to Rome from Cambridge on a Honda 350 motor scooter.
Mike is not a stranger to this ride; just 13  years previously who rode the very same route on a Vespa but had one deep regret – he didn't document his journey.  Last time, Mike raised £24,000 for Cancer Research and is hoping to raise just as much this time round.
This is Mike's story:
"Alison Stephens and I worked together on stage for over 500 performances of our theatre adaptation of Captain Corelli's Mandolin.  I'd rather see your show than that film any day and you can quote me on that,' said  author, Louis de Bernières, so I just did. Ali was the mandolinist. She also played guitar, trumpet, tuba and percussion, while Philip Contini and I performed the story.  Actually, there were five of us, Anne Evans (piano and flute) and Jock Brown (technical manager), but only two of us got cancer.  I survived.  Ali died."
Treatment
"Ali and I were treated in the same place at the same time – Addenbrookes Hospital in Cambridge from November 2008  to April 2009. I was looked after by the hepatic team who dealt with bowel cancer which had spread to my pancreas.  The surgeon, Emmanuel Huguet, performed a 'whipples procedure' which saved my life.  Ali underwent a course of radiotherapy for her cervical cancer.  Then we sat side by side doing chemotherapy together."
Ride to Rome
"I told Mr Huguet that I planned to ride to Rome on a bright red Vespa to raise money for cancer research.  I thought he would say, 'don't be stupid!' but instead he said, 'What a great idea.' So I bought a scooter, did my compulsory basic training, and set off for Rome in August 2009 wearing 'L' plates.  Ali did all the administration for raising funds.  She set up a Just Giving Page and sent me off with a sheaf of address labels and, in return for £50.00, I wrote and sent hundreds of postcards en route.  Not everybody gave us £50.00.  Some gave a lot more. At a gala performance of Captain Corelli's Mandolin in Cambridge on October 9th 2009, Louis de Bernières presented Emmanuel Huguet with a cheque for £24,000."
During the autumn of 2010 Ali and I were preparing our theatre adaptation of A Christmas Carol for the festive season when her condition deteriorated and she died in the Arthur Rank Hospice.
Fundraising
"I'm setting off on July 2nd this year to do the same ride again, to remember Alison Stephens, to thank the Arthur Rank Hospice who looked after her at the end of her life, and to raise funds for the hospice.  Would you like to come with me?  Unfortunately I don't have space for a pillion passenger. "
Mike gives full details of how you can support him on his JustGiving page, including how you can get a postcard from his journeys.
Mike, you are an inspiration and we can't wait to hear about your travels.
Update
With Mike safely home from his travels we are thrilled to say he has raised over £4000 including a generous donation of £500 from The Royal Warrant Holders Association Charity Fund.
Thank you so much Mike for sharing your incredible journey and all the fundraising for Arthur Rank Hospice Charity,
If you are inspired by Mike's story and would like to talk to us about your fundraising ideas, please give the team a call or email on 01223 675888 | fundraising@arhc.org.uk.