Living Well Patient at Arthur Rank Hospice gives back to support Life Story work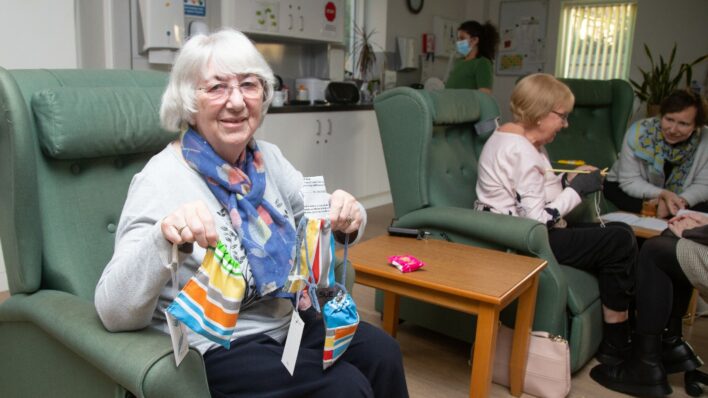 Telling your life story is one of the most important things you can ever do but when you have a life limiting illness or know you are nearing the end of your life, this becomes even more imperative.
Capturing someone's Life Story is just one of the many services our Life Celebration and Creative Activities Coordinator, Faith Macrow, organises at Arthur Rank Hospice Charity. Along with a team of volunteers, Faith is able to record any of our patients stories and memoirs using a simple recorder, which can then be transcribed by one of our other volunteers for printing. Some patients then share this with their families and others leave it as a lasting legacy so that experiences are not lost and can be shared with future generations.
When Madeleine Bird first started visiting the Living Well Service she wanted to give something back and asked Faith how she could help. This offer of help is indicative of the ethos and skills of Faith, and the other staff at the Living Well Service, which cleverly balances supporting and enabling patients.
Whilst chatting to Madeleine, to establish her skills and interests, and it was quickly identified that she was very creative and had a talent for sewing and she agreed to make some bags.
Once home, Madeline took out some curtain fabric she had saved and plugged in her faithful sewing machine. In no time at all she had created a handful of beautiful bags for the volunteers to keep the recorders in and even a little pocket to store the spare batteries.
Faith was overjoyed when she received these and promptly labelled them and hung them up with pride, for the volunteers to use with patients, visiting our Living Well Service, Inpatient Unit and Hospice at Home, to capture their life stories.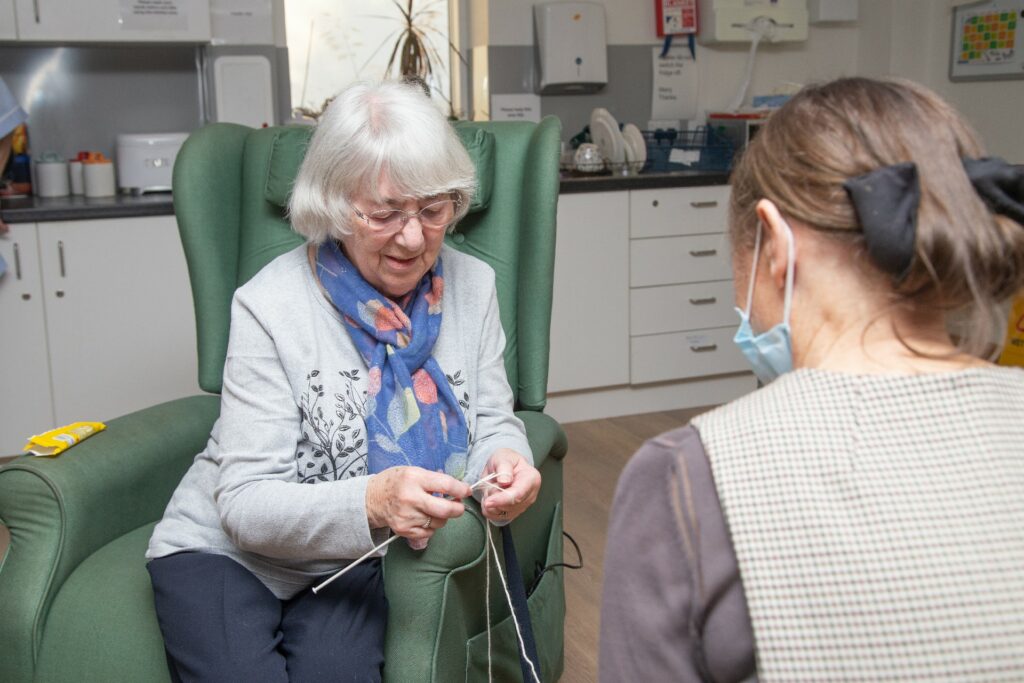 Madeleine, originally from Switzerland, continued to share her creative skills to others at the Living Well Service. She explained how she learnt to sew and make her own clothes at an early age and how her Grandmother taught her to knit at the age of seven years old. She was proud to share that this passion has always stayed with her – and the Charity is very grateful too.
If you would like to find out more about Life Celebration Work and Creative Activities at the Charity please visit our website arhc.org.uk/supporting-you/care-services/living-well/life-celebration-work-and-creative-activites/ here you can also download 51 questions to help start conversations with your loved ones.
We are very thankful to all our volunteers for their contributions. If you would like to find out more about volunteering at Arthur Rank Hospice Charity, please see our website arhc.org.uk/join-us/volunteer-opportunities/ where we are currently looking for Scrapbook Volunteers.