A milestone for Hospice Care: Kate Barry's Journey to Becoming a Registered Nursing Associate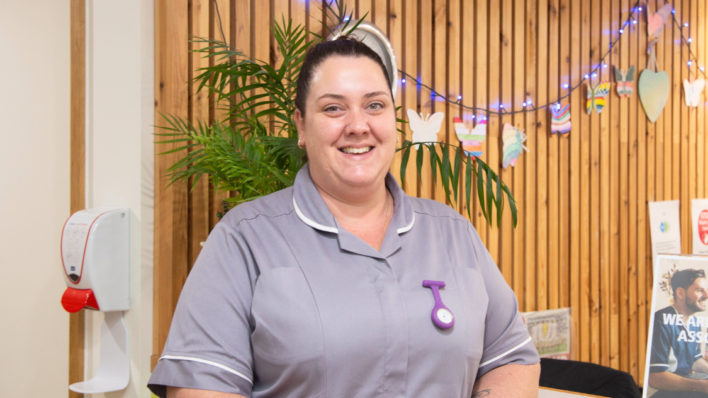 We're delighted to share the news of a remarkable achievement within our in-Patient Unit team, in Cambridge.
Kate Barry has completed her Nursing Associate Apprenticeship, marking a significant milestone as the first Nursing Associate in our organisation. Kate shared:
"Being given this opportunity to progress in my career has been a great privilege. Shaping a new role within the inpatient unit and bridging the gap between Healthcare assistants and Registered nurses will be so valuable to the unit.
Working hands on with patients while gaining clinical skills is priceless, I would like to thank all my colleagues for all their support and encouragement throughout my training over the last two years."
Nursing Associates, like Kate, play a vital role in delivering high-quality care by supporting registered nurses, enabling them to concentrate on complex clinical care. This two-year course equips professionals like Kate to provide and monitor care, promote health, enhance safety, and contribute to integrated care.
Jenny Oakes, Ward Manager commented:
"We are absolutely delighted for Kate on the completion of the Nursing Associate Training. Kate was a valued member of the team who was keen to develop and progress. As a Hospice we were delighted to afford Kate this opportunity to become the first ever Nursing Associate and one she grasped with both hands, showing determination and dedication. At the end of the two years Kate is now a registered Nursing Associate and we are proud to have her back with the team on the IPU full time.
It has been lovely to be part of Kate's Journey and to witness her grow, with both Kate and the organisation learning along the way.
The IPU is now embracing the brand-new role and realising the benefits of the 'grow your own' vision. We are excited to enroll a further two staff members in the next cohort of the nursing associate trainee program.
We want our staff to feel valued, and our patients to have the best care. We are so fortunate to be able to offer this Trainee opportunity to progress aiding with staff retention and a happy team and continued professional excellence."
We're proud to celebrate Kate's success and dedication to her role and to palliative care. Congratulations, Kate!
To find out more about working for Arthur Rank Hospice Charity visit our vacancies page.