Hospice at Home expansion – one year on!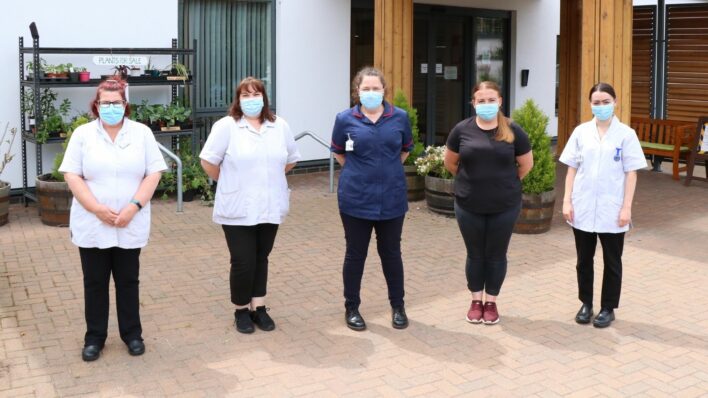 In May 2020, plans to expand the Hospice at Home team were fast-tracked in reaction to the COVID-19 pandemic. 
A year on, we catch up with Jane Carpenter, Hospice at Home Team Lead for Cambridge City, South and Huntingdon.  Together with Emma, Team Lead for Wisbech and the Fens, they look after a dedicated team of around 50 colleagues.  
Both also work shifts within people's homes, providing hands-on care. They know first-hand the huge difference this specialist team can make.
Join us as Jane shares a glimpse into their world.  
What is Hospice at Home?
Our team provide specialist hands-on care and support in people's own homes or usual place of residence when they are approaching the end of their life.  The service is available day and night-time to people across Cambridgeshire.
The team is based out of our sites at the Arthur Rank Hospice Charity in Shelford Bottom and the Alan Hudson Day Treatment Centre in Wisbech. However, the healthcare assistants and nurses who physically deliver care, are based in people's homes across Cambridgeshire most of the time.
During their 11.5-hour shift, our Healthcare Assistants visit up to 10 patients in their own homes, who are approaching the end of their lives; sometimes more – they go where they are needed most. They travel from one person's home to another, always trying to do the very best they can for every patient and their loved ones who care about, and for, them.
We have the great privilege of meeting and looking after people when they can feel at their most frightened and vulnerable, helping them to cope with what happening to them and supporting their families and the people they love.
So, what do the team actually do?
Our Healthcare Assistants look after a patient's practical needs. For example, washing their hair or re-positioning them in bed and helping with things like things like administering prescribed medicines, or assisting them to have a drink of water or cup of tea.
Part of the care they provide is also for the patients' family; we support them by simply listening to their fears and worries or enabling them to have an uninterrupted night's sleep knowing that someone skilled and caring is looking after their loved one.
Additionally, we support with pre-and post-bereavement and can request further specialist support from our wider team. This may include organising for a patient, family member or loved one to receive psychological or spiritual support, or complementary therapy.
It's the little things: Jane explains the small touches that make all the difference
An expanding service
In October 2020 we were delighted to secure funding from the Clinical Commissioning Group for Cambridge and Peterborough (CCG) which would allow us to fund both day and night-time Hospice at Home across the County.  This significant development illustrated the importance of what had historically been a purely night-time service and we were delighted to expand the service to reach previously un-met need. In April 2021, when the full impact of COVID-19 became clear, the planned expansion was fast-tracked.
However, changes couldn't be implemented immediately; we are still working hard now to recruit the right people and reach full the capacity of the team. It takes a special sort of person to provide end of life care to someone in their own home.
12 months on we are almost fully staffed, and the Hospice at Home service has provided care to 6361 people in their own homes all around Cambridgeshire2. In the previous year, we supported 483 people. We are currently recruiting for a Health care Assistant Band 2 & 3. Once we have the right people in place, the team will finally be fully staffed and at this point the number of people we can support will increase once again.
Even with the larger team we now have, we carefully assess every request for care to ensure our support is going where it is needed most.  On average, during a 24 hour period, we provide care and support to around 223 patients and their families in their homes.  This care is provided by a team of around 50, consisting of Healthcare Assistants, Community Sisters and Registered Nurses.
On the weekend the Hospice at Home service runs just like any other day. We know people need kind compassionate skilled help every day of the week.
Repercussions of the COVID-19 pandemic
Throughout the pandemic the team have continued to provide face to face care, as have other frontline care services, with compassion and sensitivity. It hasn't always been easy.
Before the pandemic, families would often have a wider family infrastructure to support them. This became so much harder with COVID restrictions on households mixing as well as travel rules. As a result, even more than usual, the team have provided a life-line of support to the single family member or family who so frequently becomes the primary care giver for their loved one.  The team have also been really creative and proactive in enabling families to make contact in less traditional ways: in one instance a son wasn't able to visit his dying father, so they took in an iPad to the father's home, so they could speak over video.
Recruiting for the team has been harder than it would have usually been, and we have had to conduct a lot of interviews online, as well as find new ways to connect with the special people we need to fill our roles.
In many ways we are yet to see the full repercussions of COVID on the service, particularly when it comes to the number of people who may now be less comfortable about going into hospital. In the longer term, it may be that people prefer to stay at home and consider this earlier in their end-of-life care planning.
Making a difference
The team try to do everything they can to help make those last few days and weeks a bit less difficult, with more tailored and personal support. We might: help a parent prepare to see their child get married, supporting them in that special moment of being Mother of the Bride for just one day; file someone's nails; listen to a story about the baby they lost decades ago but whose loss is still very real; or make someone laugh by sharing silly jokes as we wash their feet.
One family member recently shared their thoughts about the difference this made to them:
"Myself and my family would like to thank you for all your support and kindness you showed my husband in his final days. Without you we would have been unable to manage. You made a very stressful sad time easier with your help, kindness and knowledge. We thank you from the bottom of our hearts."
Collaborating with other healthcare professionals for a wrap-around service
We work in partnership with the wider healthcare system, particularly District Nurses and GPs, the wider hospice team and other specialists, to support patients and families to be cared for at home, if that is their wish and it is safe to do so.
How do patients get referred?
Patients are usually referred into the Hospice at Home team by healthcare professionals, including the Hospice's Specialist Palliative Care Home Team, District Nurses, local GPs and local hospitals for the night services. For Day Services, patients are generally referred through the Continuing Heath Care.
To speak to the team and ask for advice about how to refer please call 01223 675790
Is the service really free?
Yes, the service is largely funded by the NHS with the remainder generously raised through thanks to the dedication, commitment and generosity of the local community.
How can you help support our services?
If you would like to donate to support our team and the important support we provide, please visit https://www.arhc.org.uk/donate/ or call 01223 675888.
We are also looking to engage with people who have had experiences of our services, as we develop our future strategy. You can join in the conversation and have your say by joining one of our virtual sessions or completing our online survey. Find out more at arhc.org.uk/ strategy-survey
Read an interview with Jane from when she first joined the team on our website news pages.
Read an Unexpected Chapter – Hospice at Home, about how the team coped and the service was adjusted when the COVID-19 pandemic first hit in spring 2020.
1In the 12 months from May 2020 to April 2021
2The service covers Cambridgeshire including the Fens
3Average number of patients supported each day during April 2021