Help raise £20,000 for Hospice by taking part in annual festive fun run!
Arthur Rank Hospice Charity is excited to announce that their annual Festive Run, sponsored by Price Bailey Ely and Busy Bee Recruitment, is now open for registrations! Runners, fancy-dress lovers and teams of families and friends are being invited to limber up, pull on their best Christmas-themed fancy dress and run 5 or 10km in their chosen location, on Sunday 28 November.
The jolly event, which welcomes in the start of the festive season, has raised a magnificent £138,500 since it began in 2010.
Last year five hundred runners took part in their own hometown or chosen location, raising an astonishing £22,000 – a record-high!
The Charity's Events Team had explored whether a physical event might be possible this year but – with so much continued uncertainty in the approach to winter and the safety of all those involved being of paramount importance – the decision was reached for the Festive Run to remain remote for 2021.
As always, the Charity is seeing this as an opportunity rather than a set back! Part of the charm of the event taking place remotely is that people get a good excuse to sprinkle a touch of Christmas magic around the places they live. One participant in 2020, said:
"I enjoyed doing it near home with my running number on, and lots of people cheering me on as they could see who I was running for."
Angeline Liles, Events Officer at the Charity, explains:
"We received such brilliant feedback after last year's event. People all over Cambridgeshire (and further afield) dressed up as fairies, reindeers, elves, puddings and Christmas trees and pounded their local pavements in support of Hospice care!

"It just goes to show the power of community: a few hundred people sign up to be part of the festive fun and tell their friends and families about it. That results in thousands of pounds being raised for our essential front-line services, which are then provided back to our community: a gift that makes the biggest difference!"
New for 2021, is the addition of a 10km option, so participants can now choose to do a longer route or stick to the traditional 5km distance.
While festive fancy dress is not obligatory, there will be some extra motivation to get creative with the tinsel and glitter, as the Charity will be awarding prizes for best adult, child and group fancy dress. Those taking part will be invited to post their photos in a digital album and share their seasonal efforts on social media using #ARHCfestiverun.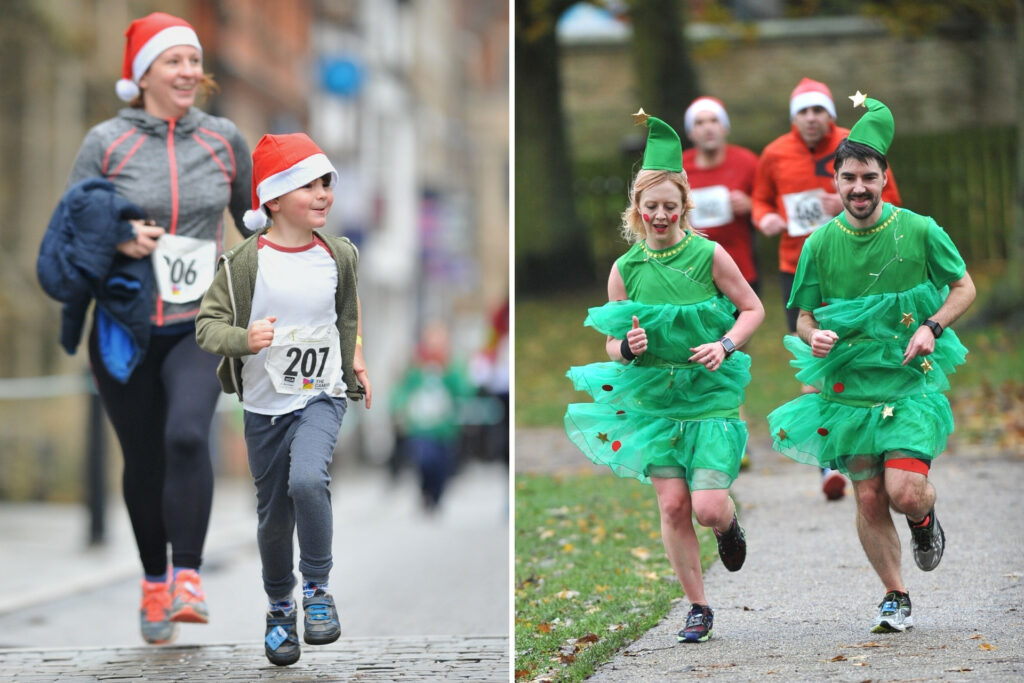 Joint sponsors, Busy Bee Recruitment and Price Bailey Ely, will have a hand in judging the entries and picking the lucky winners. Kayleigh Bysouth, Managing Director at Busy Bee Recruitment, comments:
"Busy Bee Recruitment is honoured to be sponsoring a positive and inspiring event for another year. The last two years have taught us that health and wellbeing is incredibly important and the work this wonderful charity does means so much to so many. It will take £10.5 million to run all of the services this year and events such as this help raise the funds Arthur Rank Hospice Charity needs to help make every moment count, showing respect and kindness to every patient and their families."
William Wilson, Partner at Price Bailey Ely adds:
"It is fantastic to be involved with such a great, well supported event again. An amazing amount of money was raised last year in the new format, let's hope the addition of the longer 10km distance inspires donors to dig even deeper for Arthur Rank Hospice Charity and the crucial care and support they provide."
Registration is £10 for adults and £5 for children (under 16) and keen Festive Runners (and walkers!) can now sign up at arhc.org.uk/festiverun.
Everyone who registers before 21 November will receive a specially designed runner pack including a Santa hat, runner number, fundraising tips and treats to keep the energy levels up!