Ely Rotary Club hit perfect note and donate over £12,400 for hospice services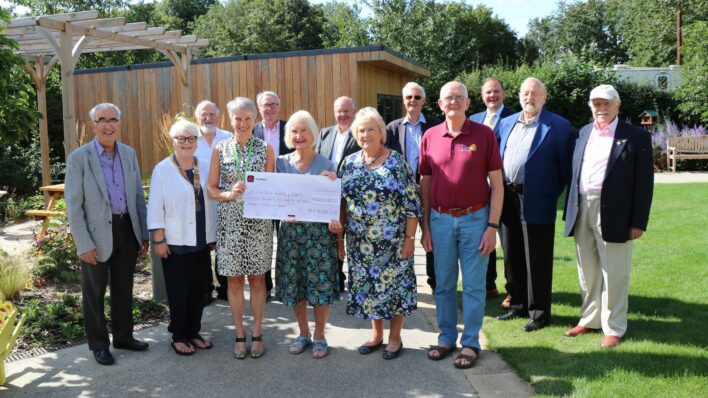 The Rotary Club of Ely are longstanding supporters of Arthur Rank Hospice Charity, and on Tuesday 22 August, members of the Club visited the Hospice to present a cheque for £12,430.92.
The Rotary Club organised an evening of entertainment comprising the London Welsh Male Voice Choir and Waterbeach Brass, which took place on Saturday 13 May. Hosted in the stunning backdrop of Ely Cathedral, the evening was sold out, raising an amazing amount to help support people in Cambridgeshire living with an advanced serious illness or other life-limiting condition.
Sue Thompson, co-organiser of the event said:
"We are really pleased to be able to raise this much for Arthur Rank Hospice Charity, which has helped so many people from in and around Ely. We know that voluntary donations make a real difference to their resources. We are very grateful to our sponsors, especially Gowing & Hunt Ltd who covered some of our major costs."
Rotary Clubs bring together people across generations who wish to create lasting change in the world, in their communities, and in themselves. Ely Rotary Club has supported people in their local community through donating over £21,400 to the Charity over the years.
Communications and Income Generation Director, Donna Talbot, Trustee Arnold Fertig, and Community Fundraiser, Victoria Kidd were delighted to welcome members of the Rotary Club, as well as representatives from the choir, band and event sponsor to the Hospice. The visit began with welcome refreshments in the Bistro, followed by a cheque presentation with CEO, Sharon Allen OBE, and a tour of the Hospice. The group had the opportunity to visit the In-patient unit, Living Well Service, and witness the air conditioned gym in use. Here they had the chance to meet the people who are receiving and delivering the care that their extraordinary fundraising events will help to provide.
Donna commented:
"Over the years, Ely Rotary Club have generously invited us to benefit from a host of activities and this has to be one of the most impressive and most successful. Music is important in our work -it brings people together and it is often used in therapeutic ways during our care programmes. Whether music enables someone to express themselves or it unlocks a special memory, we recognise it is very powerful and often emotive.
We are delighted when events like these are enjoyed by so many. We are overwhelmed that Ely Rotary Club and the incredibly kind audience have contributed to raise such a significant sum. We extend our gratitude to every person who attended, sponsored or donated in support of this celebratory occasion."
If you would like to find out more about the Charity's services, please visit arhc.org.uk or contact the team on 01223 675888.