Do you want to know more about being a Volunteer Driver for Arthur Rank Hospice Charity?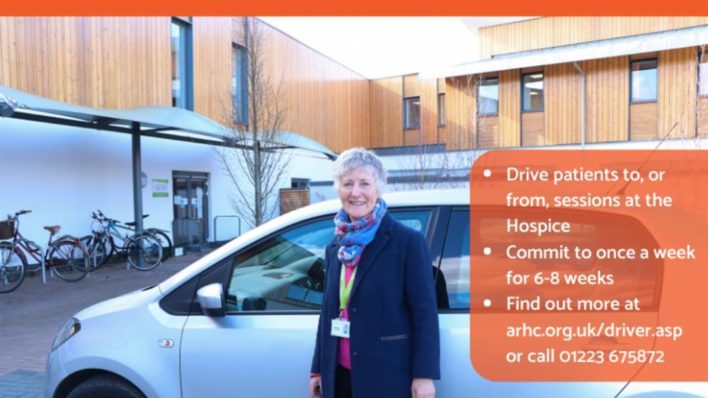 All of our
volunteers
at Arthur Rank Hospice Charity are amazing and did you know, we have over 600 now?! Our
Volunteer Drivers
 are no exception.  It takes a special kind of person to give up their time to drive someone to and from the Hospice to enable them to access our services. This is often a lifeline for our 
Day Therapy
 patients who really value having the opportunity to interact with others, participate in an activity or treatment and the option of a hot meal.
We asked some of our volunteer drivers to share their typical day with us:
Mairi 
9.45am Cycle to my Yoga Class in Trumpington.
11.15am Coffee with a friend
12.35pm Set off to pick up a patient from his home in Arbury, Cambridge
1.00pm Collect the patient and head for Arthur Rank Hospice.
1.25pm Arrive at Arthur Rank Hospice at Shelford Bottom
As I am then free until 4.00pm (or sometimes 4.30pm) there is time for a pre-arranged haircut, dental appointment or visit to the Fitzwilliam Museum to catch a special exhibition. (The Park and Ride could not be more conveniently situated.) Or as I live nearby, I may go home and catch up with any number of chores!
3.40pm Set off to Arthur Rank Hospice to collect the patient from Day Therapy at 4.00pm.
4.30pm Drop the patient at his home
5.10pm Arrive at my place, traffic permitting
I am pleased I volunteered to become a driver for Arthur Rank Hospice Charity. I have enjoyed meeting a variety of patients who have been offered transport e.g. for treatments, to Day Therapy or Bereavement Counselling.
Currently I have a regular Tuesday pm drive and have been taking the same patient back and forth to Day Therapy for some months. It has been a pleasure getting to know this interesting gentleman.
I am also willing to take on ad hoc drives if I am available when the need is there. If the patient's session is short, say 1 – 1.5 hours, I may stay on site, have a coffee and read in the Bistro, patio or garden. When the sessions are longer, there is time to do all sorts of things.
Prior to starting, I wasn't apprehensive about any aspect of being a volunteer driver for the Arthur Rank Hospice Charity, however, I found it extremely helpful to have had a couple of 'shadow' sessions with a veteran driver. I very quickly became familiar with the logistics of picking up and dropping off patients. It is reassuring to know that the Volunteer Coordinators are there to help with any queries. Volunteers will never be asked to do anything which takes them out of their personal comfort zone.
If you have some time to spare and quite like driving, don't hesitate to enquire about becoming a Volunteer Driver. I have no regrets.
Mike M
 Mike, volunteer driver at Arthur Rank Hospice Charity
I had no direct experience of the services and support provided by Arthur Rank Hospice but in the early 1980's I visited a neighbour who was an inpatient for respite relief at the old site in
Mill Road
. Later, having retired as a Mailman, I had some free time and still being active I decided I would like to contribute to our community and looked for a role that I could succeed in achieving that objective. Volunteering at Arthur Rank Hospice was an obvious choice as it would fit in with other activities that I found that I would like to undertake.
I combine a number of volunteer roles but one of the major activities is as a Volunteer Driver collecting Day Therapy patients from their home and then taking them back home at the end of their session.
Having had a relatively long introduction into the work of the Hospice I was fairly prepared for most eventualities and therefore had little cause for nervousness. Volunteer training and support covered most eventualities.
As I live fairly close to the Hospice I normally return home during the session (which is either 10.30am-1.00pm or 10.30-3.30pm) and return in good time to collect my patient at the end of their session.
The Day Therapy sessions at the Hospice are once a week for eight or ten weeks and the team prefer the patient to be transported by the same driver for the duration of their block of sessions. This helps the driver to build a rapport with the patient and helps the patient feel confident.
Arthur Rank Hospice Charity has an astonishing range of support activities that the Hospice undertakes not only for patients but for their wider family and friends and as a volunteer I support this.
Mark S 
Mark S volunteer driver for Arthur Rank Hospice Charity
I've been a volunteer driver for Arthur Rank Hospice for a little over three years, and in that time I have had the privilege of giving lifts to some seven or eight different people, in each case driving them to and from the Hospice once a week for about two months at a time. In other words, it's not an onerous commitment, but it brings me into contact with some fascinating people, and I find it very rewarding.
It's difficult to describe a typical 'Arthur Rank day' because my drives are sometimes on a Tuesday, when the Day Therapy session runs from 10.30am to 1.00pm, and sometimes a Friday, when the session is 10.30am to 3.30pm.
So the day will usually begin with a leisurely breakfast and a few chores at home (including cleaning out my car so my passenger isn't too shocked by the mess!)
I set off around 9.30am or later, having first telephoned my passenger to confirm that they are still going to Day Therapy that day. I have not yet had a cancellation, because they really do seem to love going, and, in many cases, it's a once-a-week opportunity for some human contact. I always enjoy the journey, and have had some great conversations, ranging from families to films, pets to politics, reading to royalty, life in Cambridge to last night's TV………. there was even a time, believe it or not, when something called Brexit was a recurring topic of conversation!
Having collected a wheelchair, if needed, from the Arthur Rank Hospice reception and signed my patient in, I get them settled comfortably in the Day Therapy room, and then, on a Tuesday, I have a clear two and a half hours until I pick them up to go home. In that time, I might take the dog for a walk, or nip into town, or arrange a meeting, or do some much-needed putting practice at the golf club across the road. If I'm doing a Friday drive, the gap between delivering and collecting is four and a half hours, and this is the perfect 'window' to meet up with a friend for eighteen holes of golf!
The journey back from Arthur Rank Hospice to my passenger's house can be quieter than the morning run because they are often tired after the socialising and stimulation of the Day Therapy session, and I think it's important to be sensitive to their need for either conversation or silence. But even silence is companionable, as this is a person with whom you begin to build an affectionate bond, and who is appreciative of your readiness to give up your time to ferry them to and from the Hospice.
As I mentioned, it's extremely rewarding, without being in any way a heavy burden, and to anyone who is considering volunteering as a driver, I'd say "Go on, give it a try! I think you'll love it!"