Arthur Rank Hospice Charity's Education & Conference Centre given a boost thanks to essential grant from Cambridgeshire Freemasons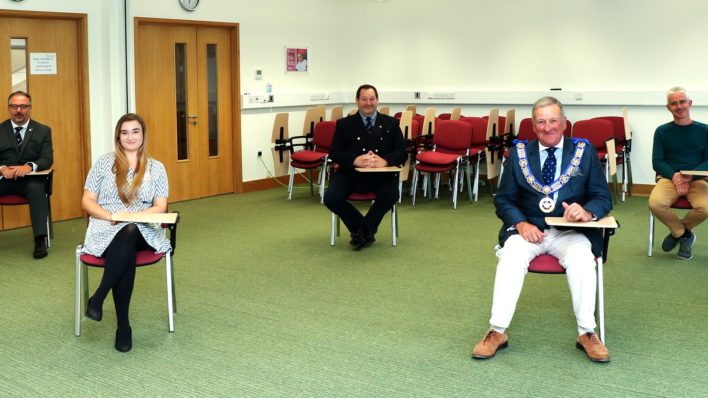 The education and meeting facilities at Arthur Rank Hospice will be able to accommodate more people during the COVID-19 restrictions, thanks to new furniture provided by a £2,500 grant from Cambridgeshire Freemasons.
Until the 'Rule of Six' commenced, government rules about maintaining a two-metre distance meant that the Hospice was restricted to meetings with a maximum of 15 people attending. Now, thanks to the valuable donation of new chairs, which have a writing board built-in, that number can be increased to 20 as soon as current restrictions are lifted. This will enable training sessions, meetings, events and fundraising activities to take place much more easily and efficiently.
As well as accommodating its own meetings, training sessions and fundraising activities the Hospice's Education & Conference Centre – which can host up to 90 delegates – is also available for hire.  This provides another important income stream, contributing to the £4.27 million that needs to be raised for the Charity, annually to supplement the NHS contribution.
Arthur Rank Hospice Charity supports people living in Cambridgeshire with an advanced serious illness or other life-limiting condition and those in need of end-of-life care, caring for more than 4,100 patients each year.
In response to the extraordinary need created by the coronavirus pandemic, Freemasonry is providing special funding of £2.75 million for projects helping those who are particularly affected by the virus. This extra money comes on top of the estimated £45 million given to charities every year by Freemasons.
The grant from Cambridgeshire Freemasons comes through the Masonic Charitable Foundation (MCF), which is funded by Freemasons, their families and friends, from across England and Wales. Freemasons have a long association with the Arthur Rank Hospice Charity. Over the last 20 years, Cambridgeshire Freemasons and the Masonic Charitable Foundation have donated more than £265,000 for various projects and for ongoing care expenses.
Kay Hardwick, Head of Education and Practice Development at Arthur Rank, said:
"We're so grateful to the Provincial Grand Lodge of Cambridgeshire and the Masonic Charitable Foundation for this support to purchase these chairs. They will help us to provide our specialist education to medical and healthcare professionals whilst keeping everyone safe."
Bill Dastur, Head of Cambridgeshire Freemasons, said:
 "I'm very pleased we've been able to help Arthur Rank Hospice Charity once again. This Hospice is a remarkable place and has adapted to the COVID-19 crisis with the usual skill and professionalism they show in all their work. Investment to increase its capacity for training, meetings and much needed fundraising activities, seemed an admirable objective at a time when donations to its finances are under pressure".