A safe space where people can use music to express themselves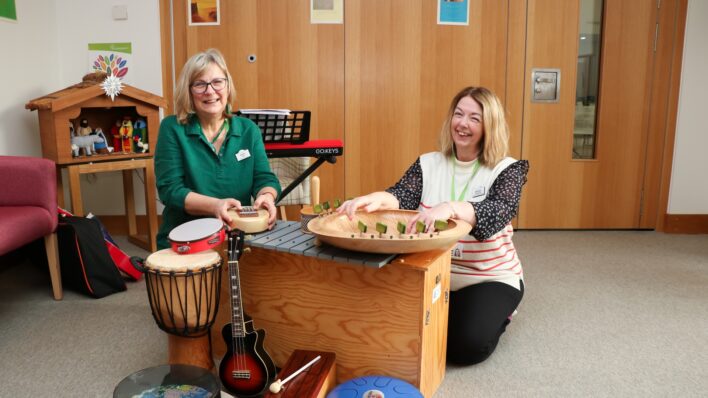 Helen Loth is our very talented Music Therapist at the Hospice. We grabbed 10 minutes with her to find out more about what she does and what it is about music therapy that works so well, as part of our holistic approach to care.
What is music therapy?
The official definition from the British Association for Music Therapy is that it is:
'an established psychological clinical intervention, delivered by Health and Care Professionals Council (HCPC) registered music therapists, to help people whose lives have been affected by injury, illness or disability through supporting their psychological, emotional, cognitive, physical, communicative and social needs'.
Which is quite a mouthful!
Basically, we are all born with an innate response to music, which usually remains despite illness or injury. Music therapists use this response to engage people in musical interactions to address a range of needs.
We aim to create a safe space in which people can use music to express themselves in whatever way they wish to, whether by playing, listening to live or recorded music or by singing. And to know that they have been heard and understood. We often use improvised music too, in which participants and play freely and be supported by the therapist.
Participants don't need any musical training or experience to take part, but the music therapist does!
How is this particularly beneficial to those at the Hospice?
I think that music therapy has a huge amount to offer in palliative care. As a form of emotional and psychological support it can be a way to explore the effects of illness on someone's life, for example someone can express their anger on the instruments whilst being supported and held musically by the therapist or begin to feel the grief of their current and future losses in a safe and primarily non-verbal way.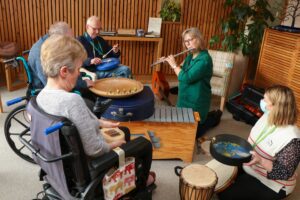 We run small groups in the Living Well Service where we might sing familiar songs, share musical memories and the events attached to them, and improvise on a range of instruments together.
It can really help to raise peoples' moods as they express difficult feelings and connect to each other in new ways. We might look at creating play-lists of music to help people relax when feeling anxious, or go to sleep, or to energise themselves when feeling low. One member created a playlist of music she would like to listen to when she was dying. Discussing musical choices can be a way to talk about funerals and death. But music can also be a way to celebrate life, to feel more in control and to find enjoyment. On a physical level, singing is also a really valuable way to help with breathing difficulties so we might focus on this for people with lung conditions or breathlessness.
On the Inpatient Unit we see people at their bedside, usually playing instruments for and with them, listening to meaningful music from their lives together or singing. This can be soothing and a distraction from pain, and a creative and enjoyable experience.
I think it is really important to give people the chance to be creative, at whatever stage of life they are. Emotional expression is a key aspect. Some people engage in song writing as a way to leave a musical legacy for family members for example. I often work together with a patient and their husband or wife; we might listen to music that has been important to them in their lives, such as what was playing during their first dance together, or what they think of as 'their song'. This can bring up a lot of emotions which are helpful to express and talk about together and can provide relief. Remembering cherished moments of their lives together is really valuable.
Another area for music therapy at the hospice is what I call environmental music therapy – so we play in the atriums of the Inpatient Unit, first getting a sense of the mood of the unit at that time and playing a range of instruments and music which fits with this, perhaps providing solace or relaxation, and to enrich and humanise the environment. This is for patients, their family and visitors and for colleagues too. It is really important to support colleagues in their work and I think that offering them an enjoyable and aesthetic experience as they go about their work, is really valuable. We play in the Bistro too, offering similar experiences.
What instruments do you use?  
I use guitar, piano, viola and flute as the instruments I play, then we have some interesting instruments that anyone can play too.
A very popular one is the Sounding Bowl [Editor's note: featured in the video above!]. This is an instrument made from wood – a large flat bowl, with strings attached across it, tuned to a specific scale which makes an amazingly beautiful sound. It has really strong vibrations which you can feel as you hold it in your lap. Some people find these quite therapeutic. Everyone can create music by stroking the strings or picking out notes.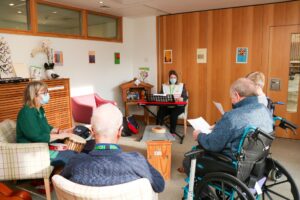 We also have a range or tuned and untuned percussion instruments, such as drums, metallophones, xylophone, an ocean drum, guiro and so on which we use in groups. And of course we all have our voices…
Where and when are you at the Hospice?
I am currently employed one day a week, my post is supported by Anglia Ruskin University (ARU), and I work Thursdays or sometimes split the day across Wednesday and Thursday. I also have a music therapy trainee on Thursdays from the MA Music Therapy Course at ARU. We split our time between Living Well and the Inpatient Unit, with some occasional outpatient sessions.
What feedback do you get from the patients (and their families)?
We get a lot of positive feedback. Patients are frequently surprised by what they get up to in music therapy! They often say they find it lifts their mood, that they didn't know they could do so much, and that they find it moving.
Family members say how much they appreciate seeing their loved one being able to communicate through the music, perhaps joining in some singing when they had appeared to no longer be responsive, and seeing them enjoy the experience, getting back to their musical, or perhaps, healthy, selves.
You can read more about our Music Therapy service on their website page.