900 merry festive fun runners brought Christmas to Ely on Sunday!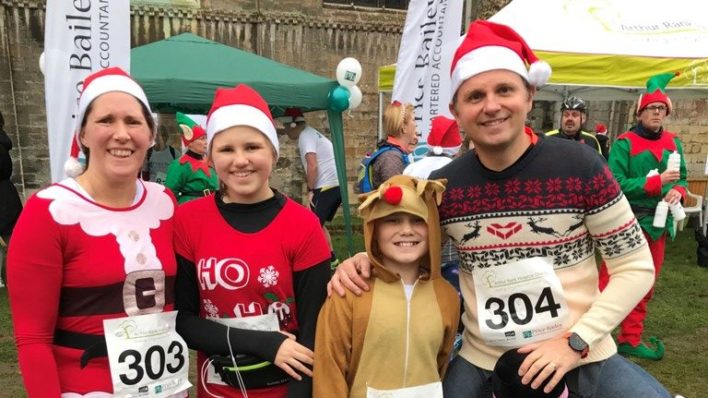 A record-breaking number of festive fun-runners took part in Ely Festive 5K on a cloudy but dry morning on Sunday (24 November 2019), starting and finishing in the historic grounds of Ely Cathedral.
So far this year, fun runners have raised £15,204.34 with donations and participant sponsorship still being received. Having crossed the start line in Ely Cathedral at 9am, a spectacular procession of runners brought some very jolly seasonal cheer to the City. Highlights of this year's fancy dress efforts included Christmas fairies, scores of elves, snowmen, a festively wrapped present, angels, Mrs Claus, Rudolphs, a penguin, a pair of baubles, candy canes and even a Christmas turkey!!
Kim Gudgeon ran in memory of her Grandad, who was cared for at Arthur Rank Hospice Charity in June 2019.  Team Grandad Hill included his daughter and her husband, his granddaughter (Kim), her partner, their 16-month old son and the in-laws. They took the prize for best team fancy dress as The Simpsons family, with a Christmas theme!
Kim said:
"We just wanted to be as silly as possible really, because Grandad was so silly. He came to the Hospice for six days and you did a grand job with him so it's nice to give something back. It's just brilliant what you guys do. We loved the turkey and the Christmas present: everyone made a really good effort!  It was nice to do it all together and to have lots of supporters around the route. Grandad would have laughed lots to see us today!"
'Brian the Penguin' came from East Norfolk to take part with his family:
"It's been a family event for us. I got told I was going to do it, and some ladies selected the outfit for me.  But I think they chose well. I don't know if I was the first penguin, it was however a PB – I'm very pleased with that!  The company, craic and atmosphere of complete engagement was great, and the outfits were fantastic! It was so well run and there was a friendly greeting at every junction. It's been a lovely event."
The run started with a count-down from the Mayor of Ely Cllr Mike Rouse and the (very entertaining) Dame Sarah Sweet Tooth of Dick Whittington (from KD Theatre Productions' pantomime at The Maltings). At the finish, after receiving their well-deserved medals, runners and their accompanying spectators warmed themselves with a glass of mulled wine and delicious mince pies courtesy of East of England Co-op Funeral Services.
Sharon Fox, Business Development Manager from Price Bailey Accountants, this year's joint headline sponsor with Ward Gethin Archer, comments:
"As part of Ely's local community, we are immensely proud to be involved with Ely Festive 5K for a second year, helping the people of Ely raise funds for such a worthwhile local charity. The Charity works tirelessly to make the event such a successful and fun-filled family morning, which brings the community together and really kicks the festive season."
John Thorogood, Director, of Ward Gethin Archer's Ely office, adds:
"We are proud to support a Charity that provides such outstanding care and support to patients and their families at a time when it is needed most. The funds raised by Ely Festive 5K help Arthur Rank Hospice Charity to continue delivering their vital services to our local community."
The money raised will help towards the £4.6 million needed, in addition to the NHS contribution, which will fund care for more than 4000 patients and their families this year, at the Hospice in Cambridge, the Alan Hudson Day Treatment Centre in Wisbech and in patients' own homes via the Arthur Rank Community Team. Busy Bee Recruitment, who generously funded 50 children's places also ran a selfie competition to win a walk over The O2 for two people.
Kayleigh Bysouth, Managing Director, explains why her team is so passionate about being involved:
"Busy Bee Recruitment have chosen to support the Arthur Rank Hospice Charity for a second year by way of a thank you for the loving care they provided to a colleague's family member in their last days. Having such a first-hand experience of what they do, and the specialist care they provide, has made this year even more poignant for us. Arthur Rank Hospice Charity will remain our chosen charity for years to come as it remains important not only to us, but to all of the local community."
The event has become a real highlight in the Ely calendar, relying on generous support and good-will from all areas of the community. Grateful thanks is extended, to: Ely Cathedral, who allow the event to take place in their beautiful grounds; headline sponsors Ward Gethin Archer and Price Bailey Accountants, who also supported the event on the day;  East of England Co-op Funeral Services who provided water, mulled wine and mince pies; Busy Bees Recruitment for funding 50 children's places; Atrium Fitness who sponsored  the 4th kilometre; East Cambs District Council for their essential support; Cross Country Carriers who provided a seven tonne lorry stage; Hawthorn who loaned their Audio Visual equipment; and the Rural Coffee Project who gave a donation to the Charity from their drinks takings at the finish line.
Personal thanks too, to:  Angela who did the warm-up; Pantomime Dame Sarah Sweet Tooth of KD Theatre Productions' Dick Whittington (showing at The Maltings) who was the morning's extremely entertaining compere; Mayor of Ely Cllr Mike Rouse who presented prizes to fancy dress winners; all those who kindly gave up their time to marshal and volunteer on the day; and the residents of Ely City who kindly accommodated the morning's road closures.
The Charity is encouraging event participants to send in their final donations and any sponsorship raised by Friday 10 January 2020.  Donations can be dropped into the Hospice itself at its Shelford Bottom home, be made over the phone by calling 01223 675888 or by making an online donation at https://www.arhc.org.uk/one-off-donation.asp