86 year old George Ginn is ahead of the Step a Million challenge target!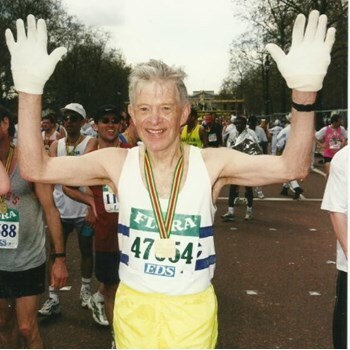 Former Soham Councillor George started the Step a Million challenge on 11 January with the target of reaching 1 million steps by 20 April. George chose to take on the challenge to fundraise for the hospice as they have been caring for one of his friends.
George has been walking every day and explains how he has been reaching at least 10,000 steps to keep on target. "I usually walk a five-mile route and when I get home, if I do something in the garden or walk to the shop, that's put another 3,000 steps on the stepper".
Other walkers and runners have spotted George out and about with his yellow tabard on explaining the challenge he is doing and some have even been kind enough to give him some cash donations.
George has overcome a number of challenges and walked in all weathers since 11 January. "There were a couple of days when there were snow but the weather has been pretty good since, although it has been windy recently."
Emma Bray, Corporate Fundraiser at the charity comments: "Reading George's updates every week on how many steps he is on and what he has been up to is always a real highlight. We are thrilled with the amazing sum of money George has generously fundraised for the charity which will directly impact the patients and their families who we care for. The Step a Million Challenge launched in January for the first time and we are delighted that fundraising efforts from almost 250 participants has raised an incredible total of almost £20,000."
George has already hit his initial fundraising target and has so far raised an amazing total of over £600 before the challenge finishes on 20 April. If you would like to sponsor George's amazing efforts, please visit his fundraising page by clicking here.
You can hear George speaking to Radio Cambridgeshire here:
Emma Bray, Corporate Fundraiser at Arthur Rank Hospice Charity explains more about the Step A Million challenge on Radio Cambridgeshire here:

To find out about  upcoming events and challenges, visit our Calendar by clicking here.