2020's innovative Bridge the Gap charity walk gathers momentum!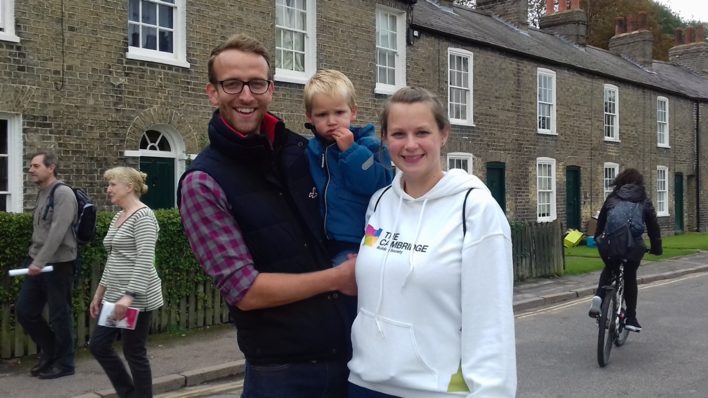 A much-loved Cambridge charity fundraising walk will still be taking place this year, thanks to some innovative ideas which have been developed by its organisers!
Bridge the Gap sponsored by The Cambridge, is a highlight in Cambridge City's annual events calendar, raising funds to support two local charities: Romsey Mill and Arthur Rank Hospice Charity.
The event traditionally involves 2,000 people walking through the heart of Cambridge city centre and many University Colleges. Due to current restrictions on mass participation events, it seemed at first, that this year's event would have to be cancelled. However, thanks to some creative thinking on behalf of the Bridge the Gap committee, the team was able to come up with an alternative, socially distanced event. 2020's Bridge the Gap will deliver many of the best-loved elements of the walk, whilst adding a little something extra!
Those registering for this year's 'alternative' Bridge the Gap experience will receive an exclusive Walk Pack, inviting them on a self-guided route, which takes in many of the City's historical and lesser-known sights. Participants can complete the walk – whilst maintaining social distancing – at the time of their choosing on any day between 29 August and 20 September 2020.
The Walk Pack contains a beautifully illustrated booklet which combines fascination sightseeing information about the route with brain-teasing clues to solve at each point of interest.  At the end of the route, walkers can check their powers of observation and deduction by playing a multiple-choice fun quiz, prompted by the clues they have solved along the way.
To add even more value for those taking part in the walk, the wonderful team at Cambridge 105 has created a special Bridge the Gap walk podcast to complement the route. For a donation the podcast is also available for those unable to take part in the walk, enabling 'virtual' walkers to explore the route, from the comfort of their own homes.
This year's innovative alternative Bridge the Gap experience was created in partnership with local corporate events and tourism company Live The City Ltd, who specialise in creative sightseeing treasure hunt experiences.
Melody Brooker combines her role as a fundraiser for Romsey Mill with being the Managing Director of Live The City Ltd.  When it was clear that the traditional Bridge the Gap walk could not take place without access to Cambridge's Colleges and taking into account restrictions on mass participation events, Melody proposed an alternative option based on her experience in creating corporate events. She generously gifted Live the City's format for walking treasure hunt tours of the city, to Bridge the Gap.  She explains:
"We still wanted to be able to offer a physical Bridge the Gap experience this year, rather than just rely on a virtual alternative. At a time when so many fundraising events have had to be cancelled or switch to virtual activities, I was delighted to be able to help with my Live the City experience to offer a 'real' event format that can be enjoyed safely."
She adds:
"We are sure that participants will love exploring our beautiful city in this new way. At just £20 per Walk Pack (valid for up to 6 participants), the Bridge the Gap walk delivers fantastic value as a day out in the city with family or friends.  It's a wonderful way to reconnect with our beautiful city whilst supporting the work of these two amazing charities at such a critical time."
Neil Whiteside, from Cambridge 105 Radio, a member of the Bridge the Gap committee, would usually be on Parker's Piece on the day of the event. Neil usually welcomes the crowds, making PA announcements and conducting interviews with participants and, volunteers and event partners.
However this year, he has used his broadcasting skills to help to record and produce the accompanying podcast, which includes: exclusive interviews with representatives from the two charities and event sponsors; music from the bands who were lined up to perform on the day; and a wealth of stories and information about the highlights on this year's route. He comments:
"The Bridge the Gap Committee brings together people from all the partner organisations, who have a real can-do attitude combined with a genuine passion for this event. The podcast is a real testament to this, and it has been a pleasure to work with the team to produce the podcast and bring it to fruition, so quickly.  All of the contributors – the charities, sponsors and musical acts, and Tony Barnfield who has recorded the voice over – have helped to create something that adds real value to this unique event. It will also be a real bonus for all participants – those who are able to do the walk, and those who are unable to physically participate in Bridge the Gap this year."
In a normal year, Bridge the Gap would raise up to £40,000 for the two charities, Romsey Mill and Arthur Rank Hospice Charity.  This year, the organisers have set a reduced target of £20,000, which would provide both charities with vital much needed funds, at a time when other income streams have been significantly reduced.
Donna Talbot Director of Fundraising and Communications with Arthur Rank Hospice Charity, comments:
"Nearly 700 people have already signed up to take part in this year's Bridge the Gap walk. Several businesses have been in touch to say that they see this event as a great opportunity for small groups of their employers to get together and reunite with the city and each other.
We would love to hear form any community groups or businesses that would like to take part. And people can also sign up individually or by household. In this most unusual of years, it is lovely still to be able to offer something that is familiar and yet innovative."
Carole Charter, Chief Commercial Officer at The Cambridge, says:
"Bridge the Gap has always been an enjoyable event, connecting both visitors and residents with our amazing city. It is a highlight of our year at The Cambridge, and as headline sponsors for what is now our 12th year, we're delighted to be continuing our support of such a well-loved event that raises an incredible amount of money for two important charities."
To register for the Bridge the Gap, visit arhc.org.uk/btg or call the team on 01223 675888.
Over the eighteen years since it began, more than 37,000 walkers have taken part in Bridge the Gap and £550,000 has been raised for local charities.