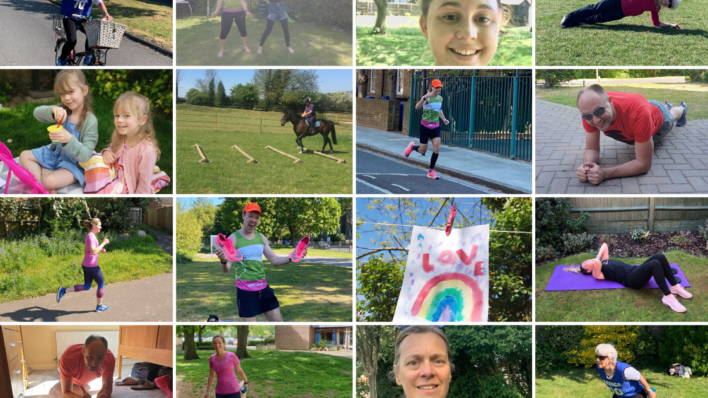 Team Arthur comes together to complete 2.6 Challenges around the county and raise vital funds for the Hospice!
On Sunday 26 April, supporters of the Arthur Rank Hospice Charity began virtually celebrating what would have been the 40th Anniversary of the London Marathon by completing the #twopointsixchallenge! Participants were invited to dream up their own event based around the numbers 2.6 or 26; many chose physically challenging activities such as cycle rides, running or work outs and some chose simple yet difficult activities to raise the money such as doing nothing (tricky for someone who has a hard time sitting still) or painting 26 pictures.
A few of the successful challenges already completed include:
Giving Dr Teddy, who is 20.6cm tall a name
Bounce session with exercises relating to 2.6, 26 and 26.2
Companies undertaking a 26 mile running relay and 26 miles over 26 days
260KM bike ride starting at 2.06am
Workouts for 2.6 hours and exercises involving 26 reps
2.6 mile runs
2.6 hour danceathon
26 paintings up for sale
26 minutes of doing absolutely nothing!
Thank you to those who have already completed their #twopointsixchallenge; you have done an amazing job so far and have raised lots
of vital funds for the charity. The challenge doesn't need to be completed in one day and many participants will continue to clock up the miles and minutes in the coming weeks.
You can still get involved and can take as long as you like to complete your challenge! Just visit https://twopointsixchallenge.justgiving.com/get-involved?charityId=51301&fbclid=IwAR2XDQhHvGAGMGFZOl6-uY4tcHKdXYAvbfCQeYnYj0_FBE6mVJRBAUqmeEY to donate £26 or create your own fundraising page and start your own challenge
today.