Patient takes on fundraising challenge from his hospice bed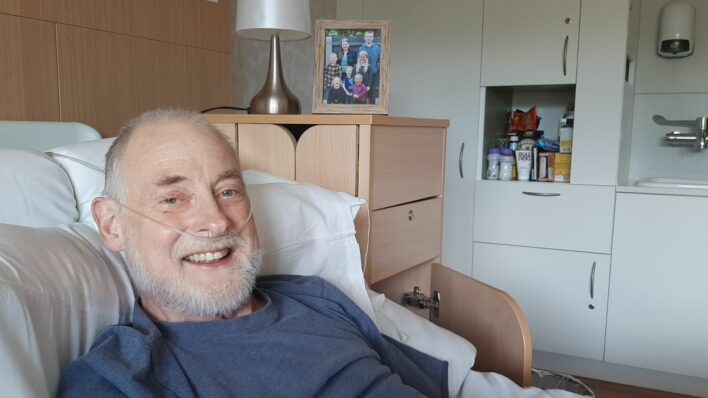 Trevor 'Mills' Middleton was cared for by the Charity, due to non-small cell lung cancer, and sadly died on 21 July 2022.
Whilst he was staying on the Inpatient Unit he wanted to do something to show his deepest gratitude for how well he was treated by the team at Arthur Rank Hospice Charity.
He had always been an active man and used to enjoy playing football, all England cross country championships and golf. Mills explained:
"I needed to choose a different challenge – something I could do from my bed. As part of the 'Hair We Go' initiative I decided to grow a beard to help raise vital funds for the Hospice. I wanted to look like Uncle Albert [from the popular TV series, Only Fools and Horses!] "
As soon as Mill's family and friends found out about the challenge they couldn't wait to generously donate and very quickly Mills (and his beard) raised over £365.00. Mills added at the time:
"I just want people to know [the Hospice] is not like a hospital, it is happy here and because of the kindness and respect I have received it helps me to keep going."
Sandra Flood, Mill's Sister explained:
"Mills had never had a beard in his life but wanted to do something to give back. He enjoyed the challenge and even manicured and cared for his beard well!
I think it is important to show that whatever your situation you can always do something. We wanted to let others know that it wasn't all sad and dark during those last weeks with him at the Hospice."
Sarah Clayton, Community Fundraiser, commented:
"We are very grateful to Mills and his family for their kind words and practical support, it means a lot to the Charity and enables others to be able to receive similar care".
If you have been inspired by Mills's story and would like to hold an event to raise funds for our services, you can email Sarah and our Community Fundraising team at  cf@arhc.org.uk or call 01223 675888.