My son Oscar is the bravest person I know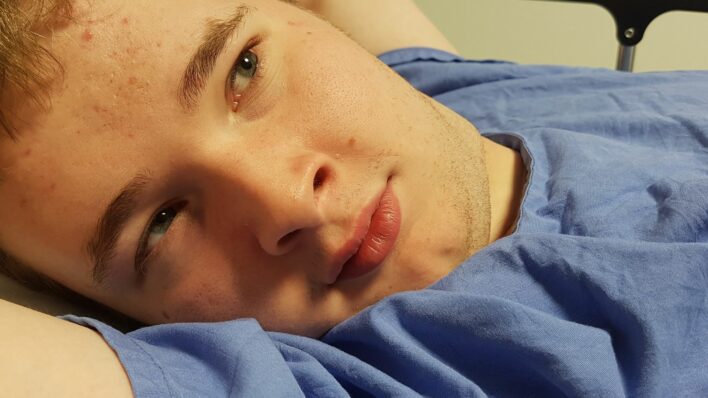 Oscar loves music, playing with his toys and, when he is well enough, getting hydrotherapy. He is a cheeky young man with a fabulous sense of humour and isthe bravest person I know.
Oscar is 19 years old. He was born with a brain condition called hydrocephalus in which fluid accumulates in the brain. It caused significant brain damage and subsequent disabilities. He is severely sight-impaired, a wheelchair user and has cerebral palsy and hemiplegia. He has a learning disability and is non-verbal. He also has epilepsy. He has been through so many operations and illnesses, and his stamina is now significantly reduced. Every challenge, such as a cold, is utterly exhausting. Oscar needs to be at home most of the time, so we really make the most of it when he is well enough to venture out.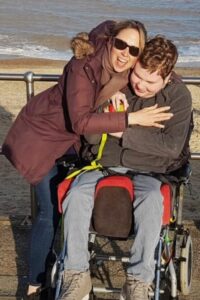 Trips out are close to home but they will always involve chocolate cake or crisps, two of Oscar's favourite snacks!
My husband Paul and I are Oscar's main carers. He has a younger brother Zack and we have a dog called Bertie and live in Huntingdon. We try to get away on a family holiday when we can. These are hard work, but really worth it – we all need quality time together.
Adult hospice care is very different from children's hospice care. Transitioning a young adult with complex needs and a big team of professionals is a stressful and complicated task. You're not only meeting new people but adult services often work differently. It is daunting and definitely a time when you need someone on the end of the phone!
The transition service really helped to ease our stress levels. The Young Person's Transition Coordinator answered all my questions and signposted me to further information and services.
We attended the Young Person events at Arthur Rank Hospice. It's really lovely to meet other families as Oscar and I are quite isolated being at home most of the time.
I have been offered complementary therapies at the Hospice. They have been a useful reminder to take some time out for myself. The role of a carer is relentless and gruelling. The simple act of someone caring for you is very uplifting.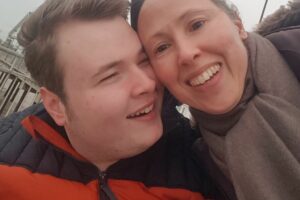 As a family, nothing has changed; those needs haven't gone away just because Oscar is now under adult care. Caring for a young adult with complex needs and severe disabilities is really tough and we need this support to be able to do it.
Shared by Tamsin Olney, Oscar's mum
If you would like to find out more about The Young People's Transitioning Service please see our webpage or email nee.yptransitioncoordinator@nhs.net