Marianna, Complementary Therapist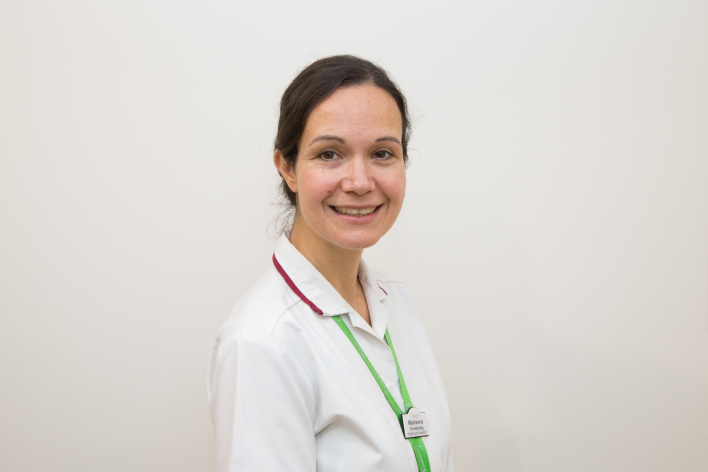 Where & when do you work these days?
"I'm very lucky to work across all service areas.  So, I see and treat patients and their loved ones in many different settings; on the Inpatient Unit, in the Living Well Service, out in the community in their homes and in our dedicated treatment rooms here in the Bradbury Wellness Centre.  I work three days a week."
What do you actually do?
"Our team receive referrals from all of our different services and then we make contact with the patient or carer to determine how, when and where they would like the complementary therapy to take place.  Allowing them to choose can really give them a sense of empowerment at a time when this is possibly denied.
We offer a variety of complementary therapies and they take place wherever the patient or carer feels most comfortable.  Comfort is at the heart of what we do.
The therapies I offer are holistic massage and reflexology; both treatments are adapted for palliative care and those living with life-limiting illnesses.  My colleagues offer other therapies too including aromatherapy, the 'M' technique, reiki and zero balancing.
Our approach is very gentle and we are often simply providing them with the space to achieve a sense of wellbeing.  Through therapeutic touch, we may help the patients feel relaxed and nurtured; this can then impact on their quality of life.
It is essential that the patient feels safe when receiving complementary therapy.  This often leads to patients sharing accounts of their lives or their emotions, which is a privilege.  It can be very enlightening and interesting too; I've learnt a lot about human nature and the world through their stories!
I have also presented sessions for our Carer's Group on the subject of Complementary Therapies and Wellbeing and I have given talks on complementary therapies as part of the ARU Palliative Care module here at the hospice.  I enjoy this aspect of my role too as it allows me to reach people who may not be aware of the role that complementary therapies play within a holistic and integrated approach to healthcare."
What's special about your role and what keeps you doing it?
"Working with the patients and their families.  Their strength and capacity to cope in challenging situations is incredible.  Being able to provide them with a small window of opportunity to relax and meeting them as a person is important.  It is a real honour to be able to give them time, attention and a peaceful space.
Our team and all of the other staff members are wonderful too.  Everyone working here plays their role in creating the special and compassionate ethos within Arthur Rank Hospice.
I think the words of Dame Cicely Saunders sum up our work beautifully:
'You matter because you are you, and you matter to the last moment of your life.  We will do all we can, not only to help you die peacefully, but also to live until you die'."