Big Ron Tuck raises £1,000 from charity single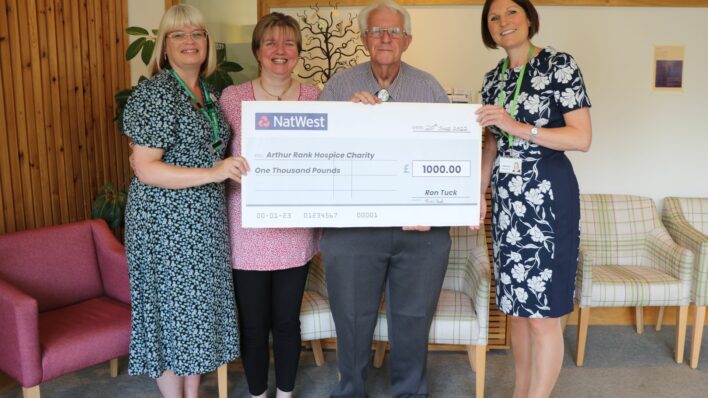 Supporter, Ron Tuck's wife Mary, died aged 90, in July 2021.  Mary was a patient using our Living Well Service and was well known for her larger than life attitude, vibrant personality and beaming smile.
Ron was so happy with the care that Mary received whilst she was with us that he produced a single which is currently being sold in our shops. Ron came in to the Hospice to present us with a cheque for £1,000.
Ron said:
"I cannot thank Arthur Rank Hospice enough for all the kindness and care given to my wife Mary Tuck, she loved the Living Well Service as did myself.  We couldn't wait for the next time to return; your staff are wonderful – so caring, nothing too much trouble.  All your volunteers deserve my praise as well ❤ so God bless you all my eternal gratitude RON TUCK aka BIG RON".
Community Fundraiser, Alison Pinney replied:
"Ron, thank you so much for dedicating this single to Arthur Rank Hospice Charity; we are truly honored".