Student Volunteers share their experience at Arthur Rank Hospice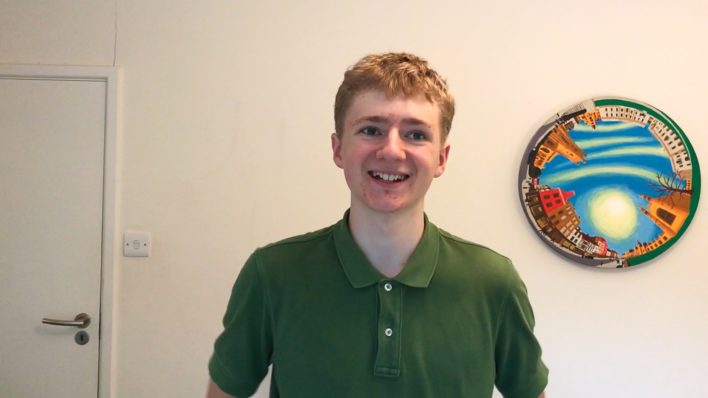 Did you know Arthur Rank Hospice Charity has a student volunteer programme? It was set up in September 2018 and originally planned to run until April 2019, however due to the success of the programme it was extended and hopes to recommence in 2021. Seven, 16-17-year-old young people were invited from their Further Education Colleges onto the programme.
Our Voluntary Services Coordinator, Hannah Touhey explains more:
"It's a great way for young people in their first year of A-levels, who are interested in a career in medicine or healthcare, to breakdown any myths they may have of hospices, gain some practical experience in health and palliative care and to support their university applications by volunteering within the Hospice in a variety of roles".
"During their placement at the Hospice the students were placed in four different roles; shadowing volunteers in the main reception, the In-patient unit reception, the Bistro and in the In-patient unit". 
"We really enjoyed hearing the positive feedback from the students and comments about how it has helped them both now and in the future such as:
 'I think the training and recruitment process was well structured. Being placed with buddies throughout the program, allowing me to gain experience in my role very quickly. I am really grateful for all the support Hannah and Tina and all the staff and volunteers showed me. I really cannot fault the recruitment and training.'
'I really enjoyed learning more about the Hospice and giving back to the community. I enjoyed meeting patients and their families. The whole environment at the Hospice was really friendly and supportive and a genuinely nice place to be.'
'The programme allowed me to develop my overall confidence; improving my bedside manner and talking to patients and visitors.'
One of the students, Julian, kindly took the time to share his experience with us:
"When I first came to Arthur Rank Hospice for my interview, everyone I passed greeted me and I'd never seen so many smiles. When I did the interview, any nerves disappeared. After finishing this interview, I had a definite resolve. I wanted to volunteer in this very special environment.
I've learnt so many things from my time at Arthur Rank (Hospice). It was at my first role at the Reception 'Meet and Greet' that I first became aware of the diversity of those entering the Hospice. Those attending Day Therapy to those using the Education (and Conference) Centre, even to those coming simply to enjoy their meal at the Bistro. The Hospice is a place full of life, not just a centre for palliative care.
My second role was to work at the IPU (In-Patient Unit) Reception. This was the first time I'd entered the IPU and I was feeling slightly anxious as I'd have to do my first shift alone and I was dreading the phone ringing! However, the friendly nurses and housekeeper came to the rescue and taught me everything I needed to know.
Throughout my time at Arthur Rank (Hospice), kindness shown by volunteers and healthcare professionals alike has been consistently outstanding which has certainly made an impression on me. The positive encouraging attitude surely improves the quality of life for the patients and I'll certainly aspire to continue in the same friendly manner which others have demonstrated to me.
My favourite role was being an IPU Assistant. It was exciting to be part of a team at the heart of the Hospice and I was grateful for the experience directly in contact with patients which was really pleasant and worthwhile. I had the morning shift which meant I got great practice at making breakfast and taking lunch orders and every shift, there are so many jobs to do and I loved going back and forth to the kitchen to the rooms with my fellow volunteer to cater for some of the needs of the patients.
Of course it was very sad to see each week, when I return, some names were no longer on the list of patients. However, the friendly fellow IPU workers, who always showed appreciation for whatever job I did, helped to overcome this sadness.
I'd like to end on one of my personal highlights of working at Arthur Rank (Hospice) which was playing Who Wants to be a Millionaire? at Day Therapy. I enjoyed answering a couple of questions but mainly sitting back and watching my team mates use their brilliant general knowledge amassed over many years. For me, moments like these encapsulated one of the key things that I'd learnt at Arthur Rank (Hospice) which was to create a caring and enjoyable environment where the pain and troubles can be managed, even sometimes forgotten so that the patients can have the best quality of life possible.
Once again, I'd like to thank Hannah and Tina and all those that I've worked alongside for the great experience that I had at Arthur Rank (Hospice). So, thank you."
We would like to thank Julian for sharing his experience which you can also view on video here: