Prepare for a memorable 10th year of Arthur Rank Hospice Charity's Festive 5K!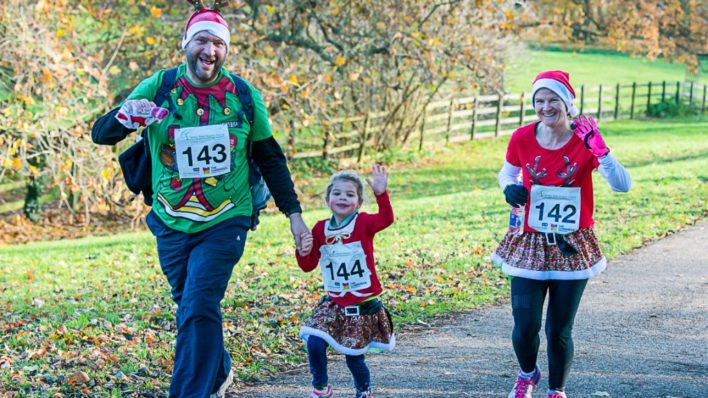 2020 will be a very special and different year, for what has traditionally been Ely Festive 5K. Due to obvious reasons the event cannot be held in its usual location in the historic City of Ely.  Instead the Hospice is inviting you to dig out your festive fancy dress, put on your Santa hat and get prepared for a 5K in your hometown or chosen location, on Sunday 22 November.
Arthur Rank Hospice Charity's Festive 5K, sponsored by Price Bailey Ely and Busy Bee Recruitment, has long been a favourite in the Hospice's event calendar and the events team have been working hard to ensure that it can still take place this year. Angeline Liles, Events Officer at the Hospice explains:
"There's something magical about our Festive 5K and every year around 900 participants have taken to the streets dressed as snowmen, penguins, reindeer, fairies, elves, Christmas trees and puddings, crackers, quality streets, snowflakes and baubles.  We are hoping that this year will be no exception and that those taking part will embrace the opportunity to add a little Christmas joy to the streets of their own home-town, neighbourhood or wherever they chose their 5K route to be!"
Whilst Christmas fancy dress is not obligatory, there will be some extra motivation to get creative with the tinsel and glitter, as the Charity will be awarding prizes for best adult, child and group fancy dress. Those taking part will be invited to post their photos onto the Arthur Rank Hospice Charity Festive 5K Facebook Event page and share their jolly efforts on social media using #ARHCfestive5k.
By signing up before Sunday 11 October, families may even win an extra treat courtesy of Busy Bee Recruitment who are sponsoring 50 free child places for a third year, with the winners being drawn on (and notified after) Friday 16 October.  The team will also be helping to judge the fancy dress on the day. Kayleigh Bysouth, Managing Director at Busy Bee Recruitment, comments:
"Busy Bee Recruitment is proud to be involved in an event that has such a positive impact on so many peoples' lives.  We understand now, more than ever, the importance of health and wellbeing not only in the workplace but also across life in general. The 50 free child places will not only bring awareness to children of their own wellbeing but increase their understanding of why the Arthur Rank Hospice is such an important Charity. Good general health leads to good mental health in the long term and we are proud to be able to support the younger generation take a step in the direction of understanding why exercise is so important."
Will Wilson, Partner at Price Bailey Ely, adds:
"The Festive 5K is always a fun really well attended local event. In a difficult year, when many charities have struggled to raise funds to continue their great work, we are proud to once again support the Arthur Rank Hospice Charity. Although a little different this year, we wish all those taking part the best of luck; enjoy the day whilst raising money for a fantastic cause."
 Individuals, families and households are welcome to take part, with the important consideration that any current government guidance on social distancing or group gatherings must be observed. Of course, routes will no longer be marshalled or signed, so those taking part are responsible for their own safety and wellbeing and this should be accounted for whilst planning a route.
Registration is £10 for adults and £5 for children and keen Festive 5K fun runners (and walkers!) can already sign up at arhc.org.uk/festive5k (children must be accompanied by an adult at all times).  Santa hats will be posted out to all participants before the day, together with a medal in their pack.
Historically the event has been one of the most popular in Arthur Rank Hospice Charity's flagship events calendar with the 900 places usually selling out weeks before the event takes place.  As Angeline goes onto explain, this year it is definitely 'the more the merrier' for this extra-special 10th anniversary year:
"Our 10th Festive 5K is going to be different to what we had planned, but we think that this special edition version will deliver in its own quirky way. We have no doubt that wherever you chose to run or  walk, you will bring some festive merriment to someone who didn't expect to see a Christmas tree, reindeer or stick of rock that morning, afternoon or evening.
 It would be wonderful if we had a record number of participants this year – the event is such a highlight in everyone's calendar and this year is exceptional as, for once it won't sell out: anyone who wants to can take part!! 
Best of all, the more Festive 5K participants we have, the more money will be raised for Arthur Rank Hospice Charity's essential services, which continue to provide essential support to people living with an advanced illness or other life-limiting conditions and those who need end of life care".
You can sign up now to the Arthur Rank Hospice Charity Festive 5K 2020 HERE
Our corporate fundraiser Emma Bray joined Neil on Cambridge 105 recently, with William Wilson from Price Bailey one of our headline sponsors, to tell him more. Click the orange arrow below to listen again: