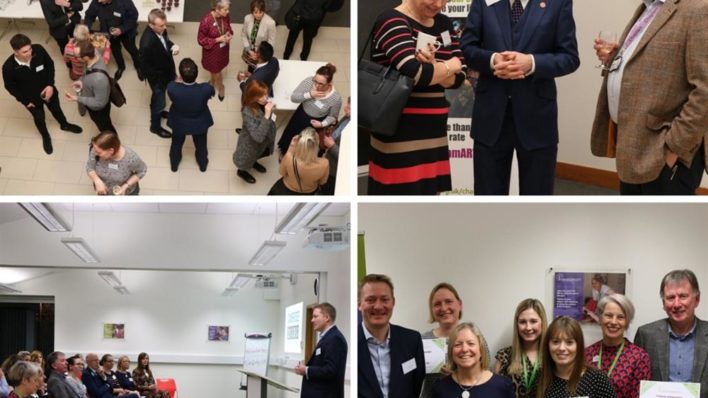 Incredibly more than £97,000 has now been raised by collaborative efforts of around sixty local companies who have taken part in the Accumulator Challenge each year since the initiative launched in 2012. The Challenge takes place between 1 October – 31 December, with competitors racing each other to generate as much money as possible in three weeks, from an initial £50 investment generously donated by Arm.
This year's challengers included Samsung, Taylor Vinters, Cambridge Cookery, Citrix, Cambridge Lakes, Holiday Inn, The Rathmore Club and Studio 24. On 20 February, they joined other influential business leaders at a special celebration event. The evening began with corporate networking as guests were treated to complimentary wine and canapés in the Hospice's Bistro. They then moved upstairs into the Hospice's Education & Conference Centre for an engaging presentation.
Sharon Allen, CEO at Arthur Rank Hospice introduced Simon Humphrey, Sustainability Manager at Arm, having explained how vital partnership and collaboration are to the Hospice. Simon then delivered an engaging talk about the circumstances and challenges surrounding the #Cambridge2030 initiative. His overwhelming message was that the initiative needs to use the combined power of research, expertise, resources and services, to find the solution to the bigger problem of inequality in the County, concluding "Cambridge 2030 is about working together to find the solution".
At the end of the evening beautiful trophies – donated by Go Glass – were presented to this year's winners. Although they were unable to attend on the evening (and received their trophies later) Cambridge Cookery won Best Fundraiser for 0-50 employees and Samsung Cambridge Solutions won Best Fundraiser for 50+ employees. Taylor Vinters took home the trophy for the Most Innovative Ideas, having raised over £1,000 thanks to such innovative fundraising activities as Pumpkin Carving competitions, a Christmas Fayre, a Festive Hair Styling Class and even a Sausage Roll Competition. Jan Holmes, Learning & Development Manager, commented:
"At Taylor Vinters we encourage our people to take part in a range of fundraising activities, with the freedom to choose the causes they feel most passionate about.  We have found that many of our people are passionate about the work Arthur Rank carries out in our local community and the range of activities that Arthur Rank organises means that we also have fun doing so."
Other entrepreneurial fundraising activity taken on by Accumulator Challenge teams this year included a Pasta Making Class by Cambridge Cookery, a raffle held at the Studio 24 Film, Festival Gala and a Halloween Bake Off at Samsung. Emma Bray, Corporate Fundraiser at Arthur Rank Hospice Charity, concludes:
"It was fantastic to work with such an engaged group of businesses this year who set their heights high and raised an amazing amount of money for the charity. We were blown away by the innovation and creativity from the teams this year who together raised over £6,500. The amount raised could fund fourteen nights of Hospice at Home Care, with nurses and healthcare assistants providing hands-on care for patients and their families between 10pm and 7am. This makes such a huge and very real differences to people who need our support, at what can be a really difficult time for them, so I hope all those who took part are feeling as proud of their efforts as we are!"
Arthur Rank Hospice Charity would like to say a big thank you to all the businesses who have taken part in the Accumulator Challenge over the past 8 years and to all those who continue to support the charity. To find out more about how your company can get involved with Arthur Rank Hospice Charity please see our website and contact Corporate Fundraiser Emma Bray on 01223 675882 or Emma.bray@arhc.org.uk
To book the Education and Conference Centre contact the team on 01223 675801 or email Education.Reception@arhc.org.uk
Find out more about #Cambridge2030 by visiting https://cambridge2030.org/ where you can also register your interest in contributing to a fairer city.