Golf Knockout Competition raises over £1500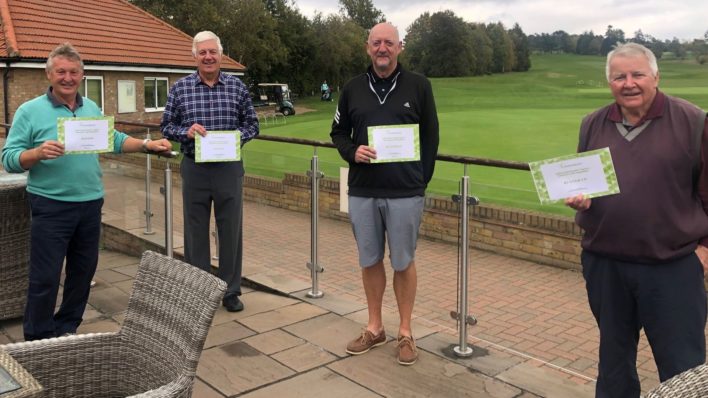 Arthur Rank Hospice Charity's first ever Golf Knockout Competition kindly sponsored by Barons BMW Cambridge has raised over £1500. Starting in August, 30 pairs played against each other in a number of rounds before players from both Bracket 1 and Bracket 2 were crowned the winners.
On 2 October, the Bracket 2 Final took place at March Golf Club between 'Fen Hopefuls', Sandra and Michael Russell and 'Rhodes Claxton', Steve Rhodes and Martin Claxton (pictured below) with the Fen Hopefuls winning the match. On 8 October, the Bracket 1 Final took place at the Gog Magog Golf Club between 'The Sultans of Swing', Chris Spearing and Steve Hobbs and 'Hi Lo', Michael Binns and John Silverosa' (pictured above) with The Sultans of Swing taking the win there.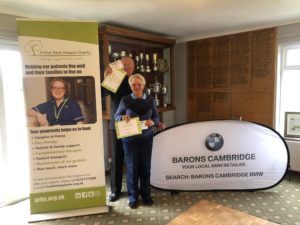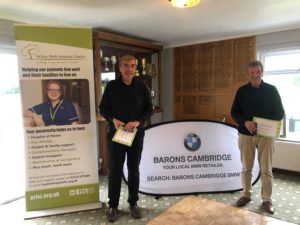 Emma Bray, Corporate Fundraiser and Stephen Kay, Trustee attended both finals and presented the winners and runners up with their prizes.
Emma comments:
"We were thrilled with how well the competition went and so pleased to hear that the players enjoyed taking part. It was a pleasure to meet all of the pairs who made the final and we would like to say a huge thank everyone who took part in the competition and helped us raise vital funds for the Hospice".