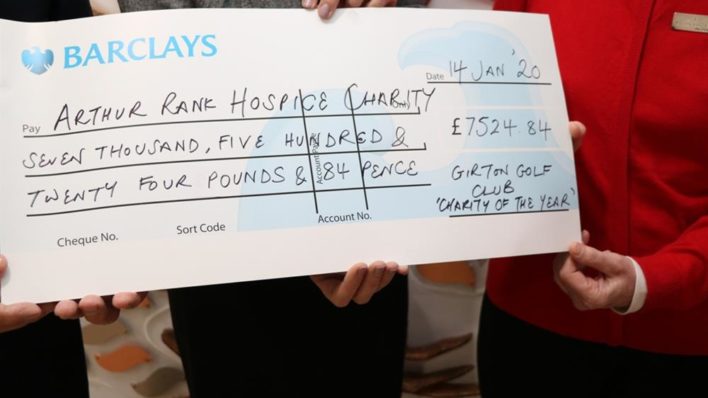 Twelve months ago, on the 1 January 2019, Girton Golf Club tee'd off their fundraising efforts, having chosen Arthur Rank Hospice as their Charity of the Year.
The club hosted a whirl of social events where members made generous donations. Activities included 'Captains Cake' sales, a ladies social evening in April,  a raffle at the East Anglian Past Senior Captains Day in May and in August the Club Charity Day where 260 members entered to play in the club's annual charity day with food and a tombola taking place.
The Club Captains Day in June (the PGA Pro Am Day) was a particular highlight when 22 PGA Professionals played with teams of four and proceeds from the day and the raffle of the golf bag (which was kindly donated by England Professional Danny Willett) were donated to Arthur Rank Hospice Charity as their charity of the year. An extra special event brought the Club's fundraising activities to a close in September.
Claire Whitehead who works at GG Hospitality at Girton Golf Club and her friend Emma Shanks took part at a 'Head Shave Evening'. Claire wanted to support the work of Arthur Rank Hospice as she had lost her mother to cancer and was very grateful for the support she and her family received.
This inspired Claire and Emma to want to help others in a similar situation.
Donna Talbot, Director of Fundraising and Communications at Arthur Rank Hospice Charity said: "The Club have been particularly modest throughout the year about their fundraising ambitions and I was overwhelmed when they shared the final total. This is a phenomenal amount which will make a significant difference to the charity. It is wonderful to see the myriad of innovative fundraising activities, large and small, which have contributed to this amazing result. We must say a huge thank you to Claire and Emma who really did go the extra mile with their head shave and in doing so raised a terrific £1200 in memory of Claire's mum Janet. We would also like to extend our appreciation to the Girton Club staff and members for their support. We have really enjoyed working with you!"