Generous community keeps Hospice cosy during cold snap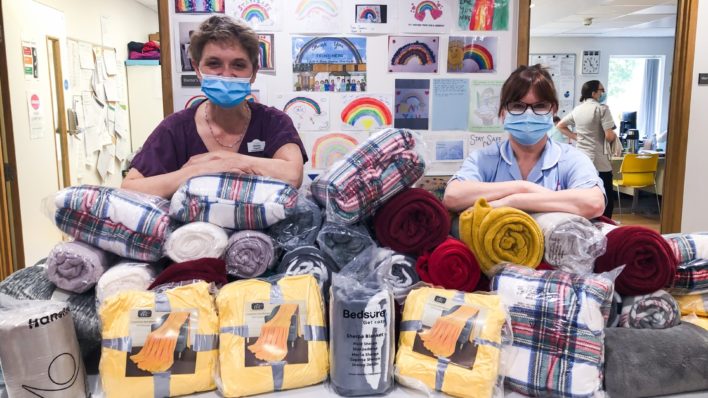 When the temperatures took a dip recently Dr Jenny Huguet at Arthur Rank Hospice asked if we could put a call out for more blankets, to help keep patients toasty and warm.
That Saturday at 8.30am a "We need … nice NEW fluffy blankets!!" post was shared, resulting in an incredible response. 990 people engaged with the post and it received 55 shares, going on to reach more than 6500 people!
Later that day more than 20 people had donated over 60 blankets.
Dawn Easby, Head of PR & Communications, comments:
"We ended up adding an update to the Facebook post at 2.30pm because there had been so many shares and people were so generous! At that point I counted about 28 blankets. Since then the total has now climbed to over 60. We were blown away by the speed and generosity of the response. Thank you to everyone who came to the rescue!"
Numerous blanket packages have arrived the following week (some were even delivered by Monday morning!). They will be used primarily for patients being cared for at the Inpatient Unit in Shelford Bottom, but will also come in useful across the year to people visiting our Day Therapy services at Arthur Rank Hospice and Alan Hudson Day Treatment Centre in Wisbech.
In response to the appeal it was suggested that the Hospice could use an Amazon Wishlist. As luck would have it, this is something which the fundraising team at the Charity has just launched.
Dawn adds:
"Blankets are something our clinical teams always have a need for so they will be likely to appear periodically on the list. However there are other much-needed every-day items which will also make an appearance and will assist in bringing down our overall Hospice expenditure.  
You can expect to see everything from bird feed and feeders which can be seen from most rooms at the Hospice, to head sets to support our colleagues staying in touch while they are working from home,  to fairy lights to create a calm peaceful environment in our Inpatient rooms.
As always, we are always so grateful for any and all support."
Since COVID-19 hit in March 2020, life has become more difficult for everyone. It has of course, also had a devastating impact on the fundraising activities and potential of the Charity. Funds are stretched now more than ever and so any act of kindness, large or small, is gratefully received.
This year, it will cost £8.56 million* to operate services, which are provided free of charge. We receive £4.29 million from the NHS, meaning £4.27million remains to be raised.  It is only thanks to thousands of people in the local community giving what they can afford or taking part in fundraising activities, that we are able to achieve this.
One of the best ways to make an impact with your donation and ensure front-line care can be sustained, is to set up a small monthly gift. If you would like to find out more about this, you can either email fundraising@arhc.org.uk or visit https://www.arhc.org.uk/donate/ selecting how frequently you would like to give.  You can also now visit the Hospice's Amazon Wishlist which will be regularly updated, here.
You can also make a one of donation by visiting or by clicking the donate button you can find at the top of our Facebook page.