Find out more about the volunteers who celebrate lives, by helping patients tell their stories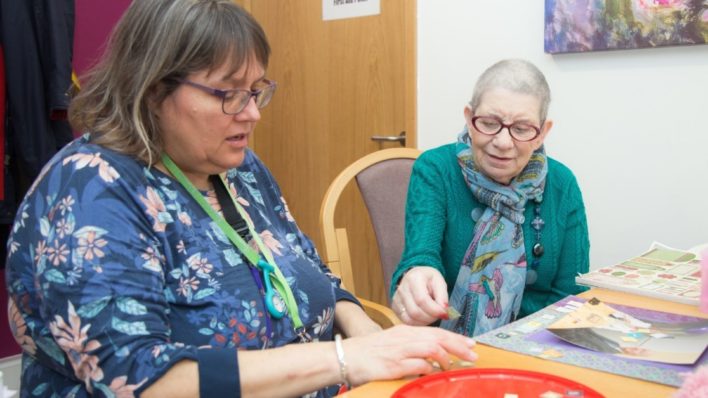 Let's start at the beginning – what is Life Story/Celebration Work?
In short, this is when someone shares their memories with another person, so it can be captured either by video, audio, as a photo book or in a written transcription. A person's story can then be kept or shared with loved ones, providing a very special and lasting connection. Time is spent looking back over a life lived, celebrating the highs, sharing the lows, and exploring life's significant milestones. Most people who take part in this activity rediscover a spark that may have been lost through illness; it can lift mood, provide new purpose and add new meaning to life.
Who takes part in the Life Story/Celebration work?
Patients who are being supported by our Day Therapy Team, in their own homes by our Community Team, or by our Inpatient Unit are offered the opportunity to share and capture their memories with Faith Macrow, our Life Celebration and Creative Activities Co-ordinator.
If the patient is at the Hospice, this usually takes place as a 1 to 1 session for about 30 minutes. However, COVID-19 and spatial distancing rules has brought with it new opportunities for Faith to contact patients remotely.
This has provided an added, if unexpected, advantage for many patients, who are able to interact from their own homes, where they are less likely to be tired out from dressing and/or travelling and where they are close to their own photo albums! The advantages are so remarkable that the team plan to continue using loud-speaker phones and video calls to complete life story sessions remotely, even beyond lockdown and the pandemic.
When embarking on life story work with a patient, Faith asks if they would like to do it alone, or with someone else they care about. A number of patients like to do some parts alone and some with a relative. When the patient has opted to do it with a spouse, whilst the patient is the one sharing their memories, the spouse will often chip in with different memories or viewpoints. Faith has frequently seen strengthened connections between husbands and wives through this, with many reporting back that the conversations continue beyond the time allocated to a life story work activity.
The experience can go beyond just speaking to Faith; patients often choose to continue life story work with their family in the form of scrap-booking for example. Sometimes, discussing what they have done in the pursuit of life story work with us at the Hospice, provides a great prompt for patients and their loved ones to look back at their photo albums and reminisce.
Faith explains more about why we offer Life Story/Celebration Work at Arthur Rank Hospice
"There are many purposes of undertaking life story work. Many patients feel is is a lovely way of leaving something to remember them by. It can be comforting for a relative to have a life story to turn to once the patient has passed away. However, I believe it serves a purpose beyond that – it is a great opportunity for a patient to reflect on their life and decide what elements of their life they want to highlight and be remembered by.
I believe that life story work is an opportunity to have quality time together. It encourages the patient to chat about old times and it usually focuses their mind on happy times. This work has a positive impact on their wellbeing, it lifts their mood, and creates a new task/challenge that they can successfully do.
Moreover, having previously worked as a Nurse for Hospice at Home, I know that members of the Community Team will often read to patients as a means of connecting and providing comfort and a calming voice during the last days/ hours of life. What better story than the story of a patient's own life?"
How our Transcriber Volunteers help
Not everyone that we have shared life story work with wants it to be written down. However, most do and this is where the Transcribers' role comes in. Once the patient has recorded their life story, either by audio and/or video with Faith, she then sends this via a secure system,  to the Volunteer Transcriber.
A Transcriber's role is so much more than just writing out the words. The volunteer carefully transcribes their words, to make sure that when it is read back the reader can imagine just how the patient would say it.
For our patients, seeing their life stories arrive as the final piece is very exciting and many share the typed-up material with their family and loved ones. This would not be possible without our wonderful and committed Volunteer Transcribers.
We recruited our first Volunteer Transcriber in January 2020. Since then, 32 patients have undertaken formalised life story sessions, celebrating their life with Arthur Rank Hospice Charity.
What are 51 questions?
To spark memories and conversations between patients and their family or friends, 51 different questions are written on 51 different postcards.
Faith explains more about the 51 questions in this video: https://youtu.be/2aDSB2Gg1UQ
You can view or download the 51 questions if you would like to use them with your family members or friends too here.
During lock down we invited volunteers to help us write some extra cards so we could post these to our Day Therapy patients. Faith was delighted when a couple held up a full sheet of  A4 page of writing in answer to one of the questions over an online Zoom session. She explained that the week before they had commented "We don't really talk" these little paper postcards were now changing that to "We do talk! "
If you would like to find out more about Life Story Work at Arthur Rank Hospice please contact faith.macrow@arhc.org.uk or if you would like to know more about volunteering please contact volunteering@arhc.org.uk