Discover Cambridge from a fresh perspective on foot by taking part in an alternative version of Bridge the Gap!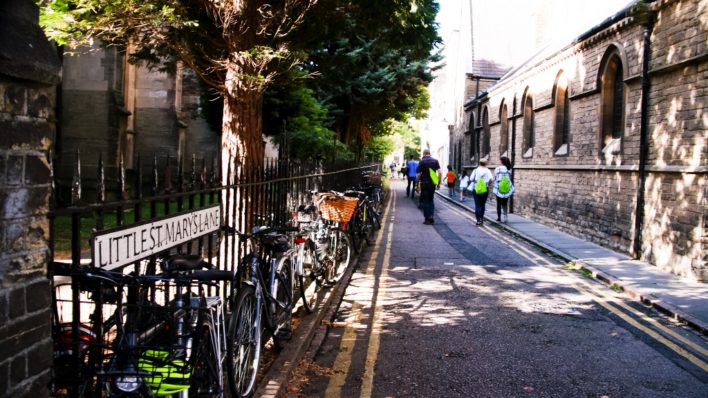 Through August and September you are invited to explore the beauty and uniqueness of Cambridge, by taking part in a novel alternative to the city's traditional Bridge the Gap Walk.
The family-friendly fundraiser can be completed in one day, or over several days, between Friday 13 August and Friday 10 September, raising funds for Arthur Rank Hospice Charity and Romsey Mill.
Bridge the Gap, sponsored by The Cambridge Building Society, has historically hosted upwards of 2,000 walkers each year, who have enjoyed a close-up view of the City, stunning Cambridge University Colleges and their beautifully manicured gardens.
Last year, with Colleges closed to the public, the organising committee provided a walk with a difference, which was well received by participants who helped to raise over £17,000 which was shared equally by the two much loved local charities.  The feedback from the 1,300 who took part was overwhelmingly positive, enjoying the opportunity to take part in something unique, despite not being able to complete a more traditional Bridge the Gap walk.
This year, with access to the Colleges still limited, the Bridge the Gap committee have come up with another fantastic walk, showcasing well-known and loved parts of the City. As well as providing previous participants and newcomers with some familiar historic sights, this year's walk will take in some of the beautiful and overlooked  aspects of the city – and learn more about the City than they knew before!  The committee believe they have worked hard to create an event, which they anticipate, will attract long standing supporters of both charities, as well as providing a wonderful chance for Cambridge residents and for people throughout Cambridgeshire to re-engage with the City.
Go at your own pace and time period
The carefully crafted route, which covers a distance of about 5 miles, will be self-guided and can be completed at participants' own pace and convenience, over a time period and day of their own choosing.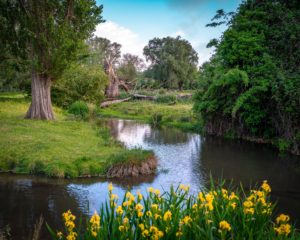 The route will include locations and highlights that have not previously featured on Bridge the Gap walks, as well as featuring details in familiar places that may have previously escaped walkers' notice.
Registrations are open
The event opened for registrations on Wednesday 26 May, great value at £8 per person, with those under 16 able to take part for free. The fee covers the event pack, which includes a guide booklet filled with route directions and interesting facts; a map detailing the route, and a special activity for those wanting an extra challenge, whilst they walk.  Participants will also receive a link to a special podcast prepared by media partners Cambridge 105 Radio, providing further stories and insights about what can be expected along the way.
Support two charities
All proceeds including any sponsorship raised by those taking part, will be split evenly between the benefitting charities, Arthur Rank Hospice Charity and Romsey Mill. The route is wheelchair and pushchair friendly, although those taking part should be aware that as this is a self-guided walk and unlike the traditional Bridge the Gap walk the route will not be marshalled, and participants will be responsible for their own safety.
Chief Executive for the Arthur Rank Hospice Charity, Sharon Allen, said:
"Bridge the Gap is a highlight of our year for colleagues, volunteers and supporters. The last year has really encouraged us all to take a moment to look around, value what is on our doorsteps and we're confident those taking part will really enjoy what we have planned.  
We may not be able to offer our community the traditional Bridge the Gap experience, but we are delighted to be able to provide an opportunity to put a date in the diary and something special.
The money raised through this event is so crucial in funding our vital services. Our care is available 365 days a year, 24 hours a day and every single person who signs up is supporting our compassionate team to help us to make every moment count for our patients and their families." 
Neil Perry, Chief Executive at Romsey Mill, explains how participation in this year's Bridge the Gap charity walk will also benefit people living in Cambridgeshire:
"Bridge the Gap is a brilliant example of Cambridge at its best! People from different situations coming together to participate in a unique event and, in doing so, contributing towards the vital work of two local charities. We love putting this event together and are confident that everyone who takes part will have fun and enjoy themselves.  
We also know that their participation will help to generate essential funds towards the work of both charities, helping to ensure that vital care and support reaches those in our county who need it most."
Bridge the Gap Sponsors 
Peter Burrows, Chief Executive Officer at The Cambridge Building Society adds:
 "We're delighted to partner with Bridge the Gap, in what is now our thirteenth year as headline sponsor. The Cambridge proudly supports Arthur Rank Hospice Charity and Romsey Mill, and the help they provide to vulnerable people in our community. This a fantastic community led event and we'll be encouraging our customers, and team members to get involved by putting on their walking boots."  
Over the twenty years since it began, more than 38,000 walkers have taken part in Bridge the Gap and over £570,000 has been raised for local charities.
For more information and to register please see the link here: arhc.org.uk/events/detail/bridge-the-gap/