Appeal to smash 300 team target for Chariots of Fire anniversary event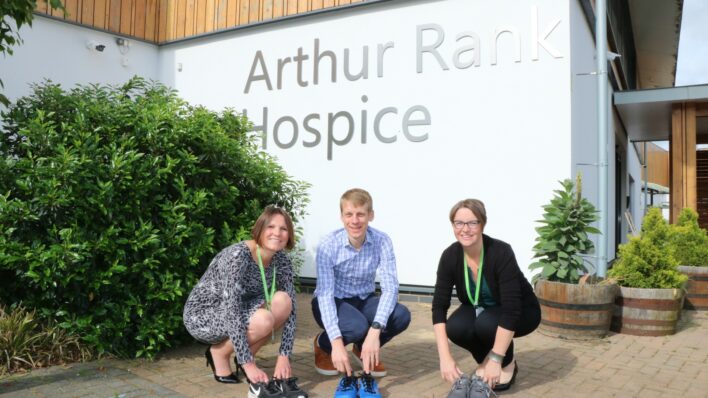 With just over two weeks to go until the Chariots of Fire 30th anniversary relay in Cambridge, an amazing 271 teams have already signed up to take part, but there are still places available!
The sponsored race on Sunday 19 March, will benefit Arthur Rank Hospice Charity, and round off our 40th anniversary year in spectacular style. At least £71,000 is set to be raised to open a new Arthur Rank Hospice Charity shop and cover the operating costs for the first year.
A last push to inspire 29 more teams to register has been issued by the Charity and supported by Chariots of Fire film producer Lord David Puttnam.
Lord Puttnam said:
"With just over two weeks to go until Cambridge's famous Chariots of Fire relay race I am pleased to support this event in its 30th year.  I wish everyone taking part good luck and encourage those who are yet to register to sign up by March 15. I wholeheartedly support the important work of Arthur Rank Hospice Charity and know how much it is valued by the local community."
Donna Talbot, Communications and Income Generation Director, thanked Lord Puttnam for his support. She added:
"Our Charity is reliant on raising funds to provide services now and in future. It would mean so much to reach 300 teams and if each team can drum up £250 in sponsorship we will be able to reach our crucial £71,000 fundraising target.
Chariots of Fire is the region's longest running charitable relay race and is organised by the HCR Hewitsons Charitable Trust.
Wendy Von Niebel, Trustee of HCR Hewitsons Charitable Trust, said:
"It's fantastic that so many teams have already signed up. The preparations are well under way and the excitement is mounting! We are encouraging more entrants to register and help support Arthur Rank Hospice Charity which touches the lives of so many local people."
Each of the teams' six runners will follow a picturesque and unique 1.7-mile route through Cambridge's historic city centre and the grounds of King's College, Trinity College over the Cam and along the Backs, before passing on the baton to the next runner at Queens' Green.
To enter a team, visit www.chariots-of-fire.co.uk before 5pm on 15 March. The cost per team of six is £150. If you don't wish to enter, but would like to contribute, please visit the Arthur Rank Hospice Charity's JustGiving page www.justgiving.com/campaign/chariotsoffire2022