Celebration menus in our Bistro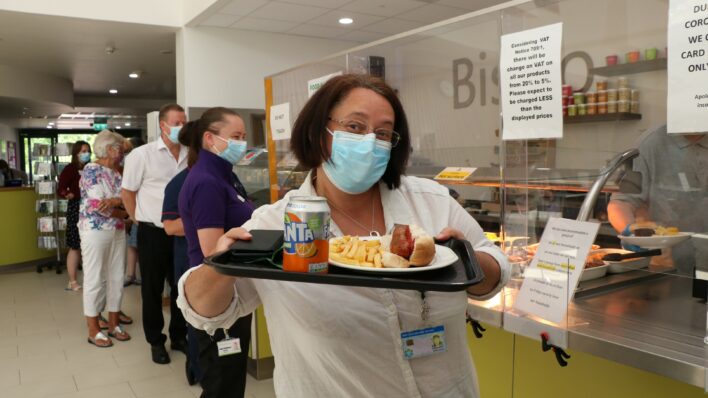 This year our Bistro team have been excited to share new menus which have been designed to celebrate and mark various festivals and special dates.
Wesak 
In April we celebrated Buddha's Birthday, also known as Wesak or Vesak, which traditionally takes place in May but the date can differ from country to country. Our Bistro served up a traditional themed menu including:
Vegan Mapo Tofu (a spicy stew)
Stir-fry vegetables with sweet chilli sauce and braised Bok Choy
What is Wesak?
Wesak Day is a Holy Day for Buddhists. In fact, it is considered the holiest day in the Buddhist Calendar.
Eid ul Fitr
In May we celebrated Eid ul Fitr which also called Eid al-Fitr, Id ul-Fitr, or simply Eid and marks the end of the month-long Ramadan fast.
Muslims across the world traditionally enjoy lavish meals and celebrate together with family and friends.
Our special menu of the day included:
Lentil & Sweet Potato Soup
Chicken Biryani served with raita, with a vegetarian option of potato and lentil korma
Side dishes of giant onion bhajis, popadoms and pilau rice.
Not forgetting the sweet treat of Carrot Halwa.
Why is Eid Celebrated?
As Muslim Aid explain on their website:
"Eid ul-Fitr is celebrated following a successful month of abstaining from both drink and food during daylight hours; this takes a lot of self-control and dedication to bring oneself spiritually closer to Allah through prayer and worship in commemoration of the month when the Qur'an was first revealed."
The spiritual meaning of Eid ul- Fitr is very important too, as explained on the website TimeandDate.com:
"Despite the celebratory character of Eid ul-Fitr, it's underlying purpose is to thank Allah for the strength he provided to endure the Ramadan fast. On this day, it is also customary to visit the graves of family members who have passed away […] The entire Ramadan period focuses on the theme of forgiveness and atonement, and Eid ul-Fitr is seen as a good opportunity to come together and put old grudges to rest."
Midsummer Day
June 24 was Midsummer Day. The celebration menu included:
Homemade Burgers
Hotdogs
Corn on the cob
French Fries and
Fried Onions
We also had vegetarian options and ice creams from the freezer!
Eid al-Adha
Our next celebration menu was on 20 July when we celebrated Eid al-Adha with a special menu:
Lemon chicken kebabs
Vegetable rice
Flat bread
Lime and coriander salsa
Greek Salad
and a very special dessert …..Baklava!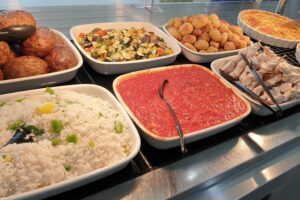 What is Eid al-Adha?
Eid al-Adha is the second of the two big annual celebrations in the Islamic calendar, lasting four days and coinciding with the Hajj, the Islamic pilgrimage.  There is a strong focus on families gathering together, meals based on meat, and sharing food with those less fortunate. Sweets and gifts are also given.
Eid this year began after sunset on Monday 19 July and ended just before sunset on Friday 23 July.
Muslims greet each other with the phrase 'Eid Mubarak', which means 'Happy Eid', or 'may you have a blessed Eid'.
Rosh Hashanah
On September 10 we celebrated Rosh Hashanah also known as the Jewish New Year.
The special menu included:
Honey and Apple Roast Chicken with baked new potatoes, onions and carrots (this is all one dish).
What is Rosh Hashanah?
As explained on TimeandDate.com:
"Rosh Hashanah is considered an occasion when God reviews and judges a person's deeds in the past year. It is also a time to look ahead with hope and to pray for personal growth and for reflection.
Many Jewish families gather for a special meal to celebrate Rosh Hashanah, which commences at nightfall the day before Tishrei 1. Celebrations begin after the evening prayer where family and friends join in to reflect on the past and make a fresh start for the New Year.
In the morning, the shofar is blown in synagogues all around the UK, except if the celebration falls on a Shabbat. This ancient wind instrument, traditionally made of a ram's horn, is played like a trumpet and has great religious significance in Judaism. At least 100 shofar blasts are blown during the morning services.
Another activity that occurs during Rosh Hashana is performing the casting ritual (tashlikh), which involves reciting prayers near naturally flowing water and "throwing sins away" (for example, in the form of bread pieces)."
The Bistro is open to members of the public Monday-Sunday from 9:00am-4:00pm. Our daily menu includes vegetarian, vegan and gluten free options and they can cook other special meals for our customers with particular dietary requirements on request.
Since March 2020, at the beginning of the first lockdown, the Bistro has had reduced capacity due to spatial distancing rules. Even though they have continued to provide freshly prepared and home cooked meals for our patients, their loved ones and frontline staff throughout they have missed the familiar buzz of a busy shift and they are enjoying welcoming customers back!