Arthur Rank Hospice Charity celebrates 40 years of care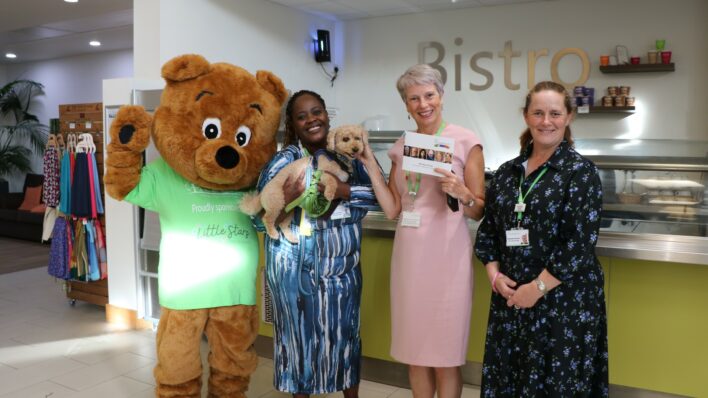 To celebrate their 40th Anniversary, the Charity invited 40 people to share their unique memories, of how they have touched or been touched by the Charity, and their comments were captured in a commemorative booklet. This included patients and their families, supporters, trustees, staff (past and present) and even some of the furry four legged PAT dogs.
40 Faces celebration afternoon
The Charity were delighted that many of the contributors to the 40 Faces celebration booklet, were able to come along to the Bistro at the Hospice for a celebration afternoon on Tuesday 10 October for tea and cake and an opportunity to reflect and look forward.
Healthcare Assistant, Barbara Sinclair recounted:
 "In July 1998, I came here on a late shift, and I thought, 'My goodness, this place is different, it's wonderful'. I was hooked and I've been doing it now for 20 years."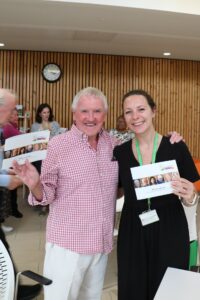 There was a positive buzz and excitement as the booklets were shared and presented.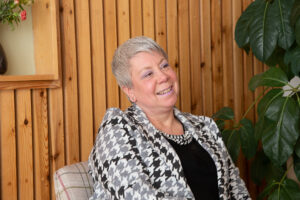 Supporter, Denise Jackson shared:
"My mum, Margaret, made crafts all her life and sold them for charity. When she was diagnosed with bowel cancer, we asked her, "What would you like to do with your time left?" She said "All I want to do is make my crafts and sell them for Arthur Rank".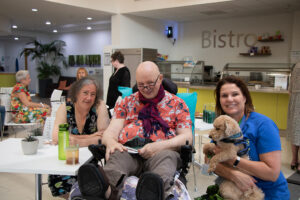 Rick and Sue Nelms attended the celebrations. Rick has a rare Motor Neurone Disease (MND), he commented:
"Talking to people living with a life-limiting condition is just talking to people, so we laugh a lot, as we talk about all sorts of things, from Formula One to keeping chickens.  One of my happiest encounters was when a fellow Living Well patient said, "Oh good, I'm glad you're here – I rang them up to make sure you would be!"
Caring since 1982
Arthur Rank Hospice was first commissioned in 1982 and there have been a lot of changes in the preceding 40 years for the services, supporting people in Cambridgeshire, living with an advanced serious illness or other life-limiting condition.
Brookfields and Shelford Bottom
Probably most notably, is the move from the much-loved Arthur Rank House, on the Brookfields site on Mill Road in Cambridge, to the purpose built awarding winning building at Shelford Bottom in 2016. The move was managed sensitively by the, then CEO, Lynn Morgan, and a Memory Light Walk took place from Mill Road to Shelford Bottom where a time capsule was buried. A commemorative glass sculpture 'The Journey', donated by Go Glass, can be viewed in the Bistro which brings the two sites together.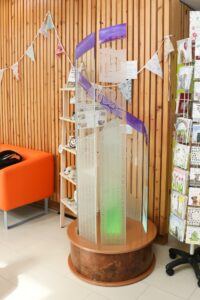 North Cambridgeshire 
In 2015, the Charity was delighted to join the Alan Hudson Day Treatment Centre in Wisbech. Bringing Living Well treatment and clinical days, including blood transfusions, oncology and symptom management, complementary and diversional therapies, Hospice at Home and bereavement and support services, for people living in the North of Cambridgeshire.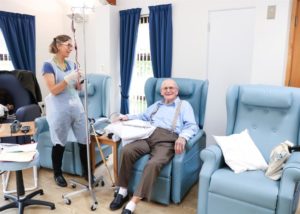 Royal visits
The Charity has welcomed visits from the Royal family which include, the Duchess of Kent who officially opened Arthur Rank House in 1981, the (then) HRH Prince Charles in 1999 and 2002, HRH Prince Edward, Earl of Wessex, who officially opened the (now) Living Well Service at the Hospice in 2018 and most recently, the Duchess of Gloucester who officially opened the upgraded Living Well facilities and garden at the Alan Hudson Day treatment Centre in 2022.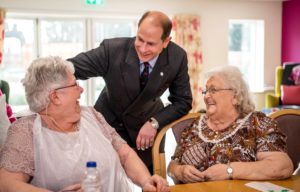 A stained glass window, featuring a purple section painted by HRH King Charles III, hangs proudly in the corridor near the Living Well Service and Inpatient Unit at Shelford Bottom after being carefully transported from Arthur Rank House.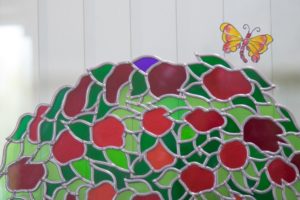 Expanding services
Services have expanded across the years, to include the Lymphoedema Clinic, Hospice at Home services across the County, the Specialist Care Home Team and Patient and Family Support. The Charity also hosts the 24 hour Palliative Care Hub 111 Service and Motor Neurone Disease (MND) Clinic.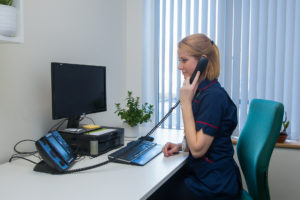 Funding
Like all Charities, funding is crucial. It's first Charity Shop was opened on Regent Street, in Cambridge in 1995 and the Charity now has seven retail opportunities, which include shops in Burleigh Street, Mill Road, Cottenham, Great Shelford and the Retail Hub and the Retail Outlet at Pampisford. Along with the many events and challenges, community fundraising initiatives, gifts in wills and corporate support, this all helps to raise funds to run the services, which for 2023/2024 cost £12.12 million.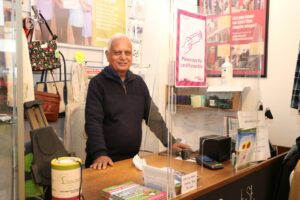 Trustees and influencers
Dame Cicely Saunders, who was the founder and major influencer of the modern hospice movement, features in the booklet and references the talk she gave in Cambridge in 1981. Her niece, Kate Kirk was Chair of Trustees at Arthur Rank Hospice Charity from 2019-2022 and the Charity are very grateful for all her wonderful contributions.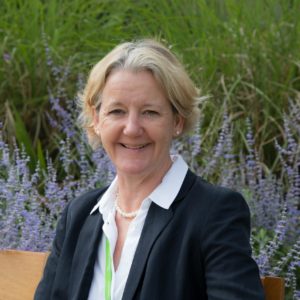 Kate commented:
"As Trustees, we took the big decisions to become an independent Charity, to build the new Hospice and to work with the Alan Hudson Day Treatment Centre in Wisbech to better provide the care that people all over Cambridgeshire need." She continued:
"I am still amazed by the incredible work that hospices do."
Patients, family, volunteers, staff and supporters
Most importantly, Arthur Rank Hospice Charity is well known for it's outstanding care and the people who give it the excellent reputation it has. Along with, over 200 employees, the Charity is fortunate to have over 600 passionate and dedicated volunteers and the services could not run without them.
CEO, Sharon Allen, OBE commented:
"Our greatest collaboration and success is the relationship we have with our diverse community. People support us in so many ways, which is brilliant and means we can do all the things we do".  
Arthur Rank Hospice Charity would like to thank everyone for their support over the past 40 years and their contributions to the booklet.
You can download a PDF copy of the 40 Faces of Care booklet at arhc.org.uk/40yearsofcaring or call 01223 675888.