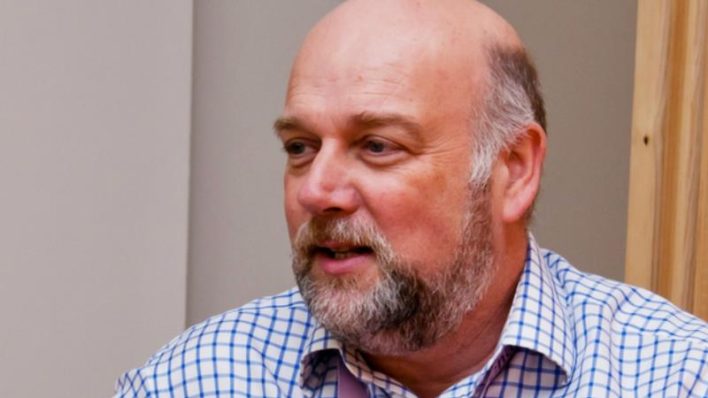 Keith is Arthur Rank Hospice's Chaplain and our Patient and Family Support team lead. He works closely with the Hospice at Home team…
Where are you based?
I'm based at the Hospice in Shelford Bottom, but I go out and visit patients in the community in their own homes as requested, either by the patient or from referrals from other members of the team.
On average I might visit one or two people a week who are receiving care from our Hospice at Home service, and those meetings may be followed up with further visits in the following week.
What do you actually do?
In the instance of Hospice at Home care, my role is to enable each patient to explore some of the more difficult questions that they might face when they're coming to the end of their lives. Spirituality lies at the heart of who we are and, often, we will end up talking about the bigger questions in life. For some people this may include theological issues and for others it might be an exploration of their feelings and thoughts at this stage in life.
For some patients, religious rites are also important at this time, so if this is something that would be helpful to them, we help fulfil those rites. If I'm able to do this as a Christian then I will, but equally I help ensure they have access to minsters of their own faith.
Sometimes my support will be as much for the family members as the patient themselves and I can spend as much time with them as I do with the patient. Whilst this may be my first contact with them, we may end up also providing psychological or bereavement support for the patient's relatives, after a loved one has died.
What's special about your role and what keeps you doing it?
Meeting people in their own home environment can make a big difference. They are more able to be themselves.  It can give them an important opportunity to have conversations about the real things that matter in life. I really love helping them do that and helping them to express some of their thoughts and feelings and find out when appropriate where they find their emotional and spiritual strength. I think an important part of that can be helping people to express unresolved issues and – where possible – enabling them to bring resolution which can ultimately lead to a more peaceful end.
I think we work well together as a team. The Healthcare Assistants that are with families at night are aware of all the services that we provide, so it is usually through them that I receive referrals. They will give me a call and we will have a chat and review the patient's care and then do our best to meet those needs, whatever they are. For some patients, the opportunity to speak to someone who is not in a medical or clinical role but understands something of what they may be feeling, is just really helpful.