Amanda, Hospice at Home Healthcare Assistant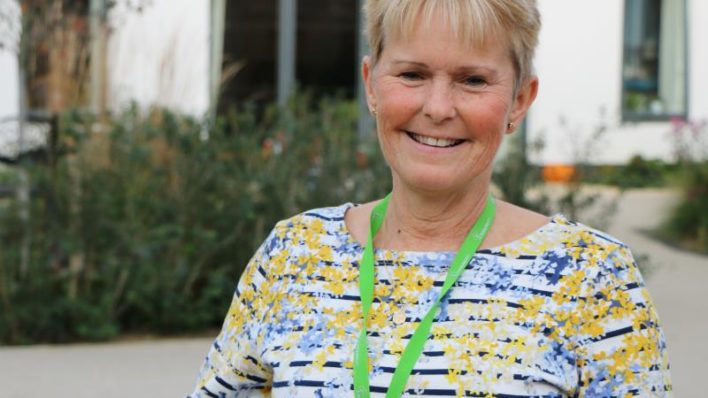 I am one of fifteen Healthcare Assistants working in the community for
Hospice at Home
. We work in a patient's home and this can be across the county covering Cambridge, South Cambs, East Cambs, Fenland and Huntingdon.
As a Healthcare Assistant I spend nine hours from 10.00pm until 7.00am, one to one with a patient in their own home. We look after patients in the last two weeks of life providing hands-on care for them and supporting them and their families.
During the night we meet the family and obtain a full update from them about their loved one. We make regular checks throughout the night giving personal care, reassurance and symptom control. We can give oral medications if a patient is still able to swallow, and we can ring our Hospice
On-call Nurse
if available or the out of hours District Nurses to give injectable medications.
We take a holistic approach to care and are all able to do relaxation techniques, gentle massage and explore the patient's spiritual beliefs and wishes after death which some families find upsetting and difficult to talk about. It is often easier to talk to someone outside of the family. Some families like to sit and talk with us, expressing their anxieties, exploring any issues or concerns they might have about end of life care, so we support them too hopefully putting them at ease and enabling them to relax and get some quality sleep.
We are all very mindful that it can be difficult to accept someone into your home who you have never met before, and entrust your loved one to them, particularly at this stage of their life. We aim to fit in with families wishes, whether this is to be in the room with the patient or be in another room and make regular checks on them. Each patient is different, and we are very respectful of this.
At the end of the shift we feed back to the office giving a full update on how the patient and family are, any needs that need addressing by the day team, and where we feel the patient is in their prognosis. In the nine hour period we spend in a home overnight, we are able to form a detailed picture of the patient and their needs. We are in a fortunate position to be able to spend this length of time which other healthcare professionals do not have the benefit of.
We are all trained in palliative care; we can recognise end of life symptoms and when a patient is deteriorating. This enables us to call or wake the family if they have expressed a wish to be present at the death. We mostly get it right and have time to call the family, however sometimes a patient deteriorates so quickly that even we are taken by surprise and despite our best efforts are unable to get the family there in time, which can be very hard for loved ones.
After a death on shift we can take the strain away from the family, by arranging for someone to come and verify the death, calling any other teams involved with the care of the patient to advise of the death, ringing the undertaker and helping the family understand next steps. If a family wishes us to, we can prepare the body by, for example, washing and dressing the patient, removing any equipment such as catheter and syringe pump ready for the when the undertaker collects the body.
We are going into people's homes; everyone is different, and you never quite know what is going to greet you when you walk through the door. You have to be a bit of a chameleon! Each night is different, it depends on the individual and their relatives. So we need to be adaptable.
We do a lot of listening and build up a rapport with the patient and gain trust from families so we can support them as best we can. We are all caring – we wouldn't be in the job if we weren't – but we have to gauge what sort of approach a patient is comfortable with. Some patients find it difficult to lose control, so we have to take a step back, whilst ensuring we meet their needs. You can have a night when a patient is really unsettled and it is non-stop. You just never know and have to be prepared for anything.
The reason I love my job is the variety: you never know what you are going in to and we meet some really lovely people with interesting stories.
We are very lucky to be a close-knit team and, whilst we don't see each other face to face very often, we have a good working relationship between us. We usually text each other during the night to give support and if we have had a particularly challenging night, we can call the office in the morning and talk through the night with them.
I like the fact that we can get it right; you can give someone a good death as much as they can have a good life. That's how I look at it and that's what drives me on.