Social group
Social group for anyone who is being supported by, or has an open referral to, the Living Well Service.
An opportunity to meet with others in a relaxed environment, with time to chat, play games, listen to speaker presentations, and much more.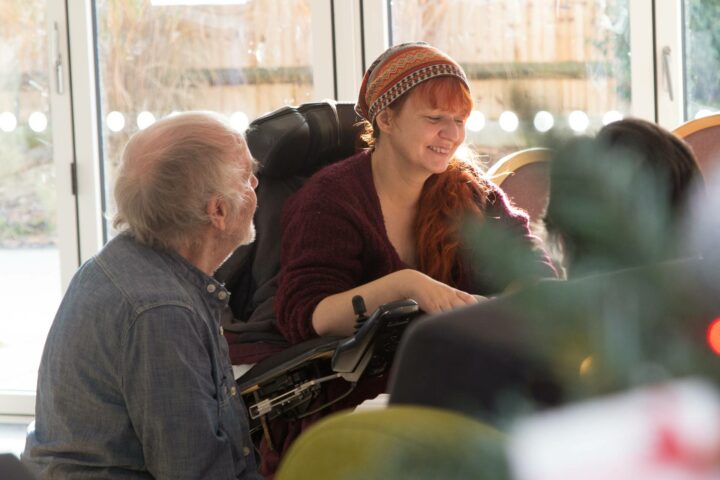 More about the Social Group
You are welcomed to attend if you are:
attending an eight-week programme with Living Well, or
are in between programmes, or
receiving support from the Caring Communities Volunteer Support Scheme
You can also use the group to stay in touch with our hospice community while you are transferred to the Specialist Palliative Care Home Team or other Arthur Rank Hospice services.
The groups are facilitated by two healthcare assistants and a volunteer, so there is no medical or nursing support – meaning that there are some limitations on who can attend (see below).
Limitations of the group
As there will be no clinical staff in attendance at our in-person meetings, we ask that only people who are independently mobile and able to use the toilet (with or without a walking aid or help from your own carer) attend

T

here are no such restrictions on who can attend our Zoom meetings
We realise not everyone will be able to join us face-to-face. We are awaiting technology that will allow people to 'Zoom in' to our fortnightly face-to-face meetings, but we cannot promise this will be available for the social group
We regret we are not in a position to offer transport. We can provide a list of community transport schemes you could contact
The zoom meetings have been a godsend to me. It's so much fun – I really look forward to it. It's the highlight of my week!

March, 2022
FAQ's
What are the meetings like?
We typically start with half an hour for a catch-up. There is no pressure to speak, though if you are very quiet, we may just check in on you in case you want to say something but haven't found a moment to say it.
We then usually have some more structured activity. We might have a guest speaker or a virtual 'tour' somewhere, a game, or a quiz. We are open to your suggestions as what you would like to do too, so please let us know!
There is usually time for a bit more of a general chat at the end of the meeting.
When and how would I join you?
We meet every other Wednesday, from 2:00pm – 3:30pm.
The first Wednesday in the month we meet in-person, at Arthur Rank Hospice in the Living Well Service Lounge. The alternate Wednesday is an online meeting using the Zoom platform.
How many people attend?
Face-to-face meetings
Because of social distancing rules we have, for now, to limit the number of people attending face to face meetings to ten. We hope to extend this to 16 as soon as possible. Places are allocated on a first-come, first-served basis.
Online, Zoom meetings
There is no limit to the number of people that can attend our Zoom meetings.
How do I go about attending a Zoom or face-to-face session?
For Zoom sessions, you will automatically be sent invitations to the group. You can simply click on the invitation link to join the online Zoom meetings.
To attend our face-to-face meetings, you need to let us know beforehand, so we can make sure we don't exceed our maximum number of people attending.
You can contact us on 01223 675820 or email livingwell.service@arhc.org.uk to book your place
I don't know how to use Zoom