Palliative Care Hub 111 option 3 line, nominated for Innovation of the Year!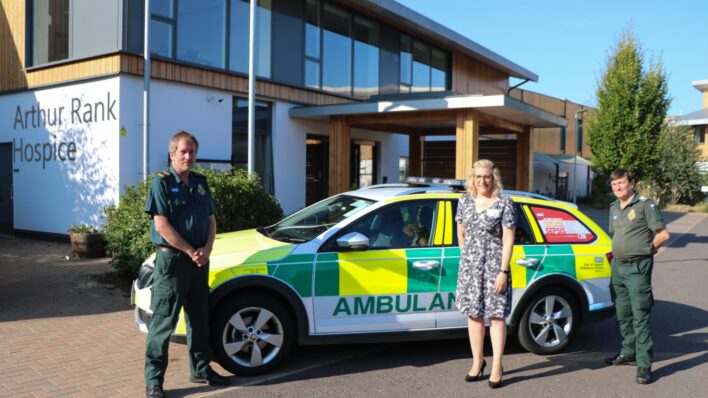 The Palliative Care Hub, which can be reached via option 3 when calling 111, has been nominated for a high profile award with the Health Service Journal (HSJ).
The palliative care telephone service – which is run collaboratively by the Cambridgeshire and Peterborough Clinical Commissioning Group (CCG), HUC (Herts Urgent Care), the East of England Ambulance Service Trust (EEAST) and Arthur Rank Hospice Charity – is one of nine finalists that made the shortlist, in the 'Primary Care Innovation of the Year' category.
The service is available to anyone who needs specialist palliative care advice or support across Cambridgeshire and Peterborough.
The HSJ Awards are highly regarded in the healthcare industry, celebrating success and providing a platform to shape the future of the NHS. They shine a light on outstanding efforts and achievements, and they value sharing best practice, improving patient outcomes' and innovating drivers of better services. In an unprecedented year for the healthcare sector and the NHS, they also provide an important opportunity to say thank you.
The remarkable impact of the service is illustrated by the fact that in its first 6 months (between 1 April and 30 September), the Palliative Care Hub received 1,173 calls and supported 109 patients who would have otherwise required hospital admission.
Judging for the awards took place virtually in October, via Zoom. Clare Moody (End of Life Care Programme Manager, CCG), Pip Munk (Clinical Nurse Specialist from the Palliative Hub) and Carly Love (Matron of Clinical Services at Arthur Rank Hospice Charity) presented to the judges on the morning of Thursday 30 September. The awards ceremony – where the winners will be announced – will take place on Thursday 18 November at Evolution in London.
Carly Love comments:
"Being shortlisted for this award is testament to the success of this important collaboration. Each of the partnership organisations involved is passionate about creating the best possible outcomes for people with incurable illness and supporting those who care for them.
"It has been hard work to get the phone line up and running, especially in the middle of a pandemic, but we are already seeing our impact and evidence that we are part of a vital solution. One call made to us, tends to generate two more from us to the wider healthcare sector; we proactively link patients up with the right support at the right times and in the right locations."
To find out more visit arhc.org.uk/pall-hub, If you require specialist palliative care advice and live in Cambridgeshire or Peterborough you can call the phone line on 111, selecting option 3. Current hours of operation (as of 5 October): Monday to Thursday 7.00am-2.00pm, then 5.00pm-12.30am; 24 hours on Fridays, weekends and bank holidays.
We continue to recruit for the team! If you know a Band 7, Clinical Nurse Specialist who is looking for a new challenge please share details of this vacancy with them.