Light up a Life – Arthur Rank Hospice Charity's special film premiere brings Cambridgeshire together virtually, to remember and celebrate those we love
Hundreds of people from across Cambridgeshire united online with Arthur Rank Hospice this Sunday (6 December 2020) to remember loved ones, at the 5 o'clock film premiere of Light up a Life sponsored by Peasgood & Skeates.
The film is now available to watch online at arhc.org.uk/LUALfilm, with dedications and donations warmly welcomed throughout the festive season.
In previous years, the service has been hosted at the Hospice's home in Shelford Bottom. The new film premiere format – made necessary because of the pandemic – was warmly received with one viewer, Joanna capturing the sentiment felt by many, commenting on Facebook:
"Very moving film that still made it a special event to remember loved ones. Many thanks for all the effort that went into this film and for all the work you continue to do #missingyoumum."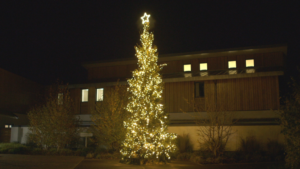 Whilst this year's event was hosted virtually, the stunning lights of Arthur Rank Hospice's actual Christmas tree were physically turned on at 5.10pm, after a minute of silence to pause and remember – in symmetry with this poignant moment in the film.  As in previous years they will now shine out from the Hospice across the festive season until Wednesday 6 January.
Light is an important theme in the service in what has been a dark and difficult year for many, especially those bereaved or facing the end of their life in these particularly challenging circumstances. Sean Martin, Head of Operations at Peasgood & Skeates – the events headline sponsor – captures the unique feelings around this year's event with his words:
"2020 has been a year that in living history for most of us, has been like no other.  But 2020 has seen in abundance the values of all our professional clinicians and carers. Compassion shown through selfless love and kindness, working to understand and meet the needs of whoever they are caring for. […]  The Light Up A Life Celebration has become a very important event in the festive calendar for so many families touched by the compassion of this exceptional organisation and an opportunity to gather and remember in friendship to celebrate the lives of those who are loved."
The service focuses on acknowledging and sharing difficulties, sorrow and grief, whilst seeking to find hope, love and light. One sentence from the humanist reading 'To love justice' by Robert Ingersoll sums it up beautifully: "To see the calm beyond the storm, the dawn beyond the night……"  
The film echoes the event's usual format with a welcome from the Hospice's CEO Sharon Allen and Sean Martin of Peasgood & Skeates.  Keith Morrison, the Hospice's Chaplain weaves together contributions from The Rt, Revd Stephen Conway Bishop of Ely, Barry Morgan – who leads the Hospice's Community Team – and Alex Collis, Deputy Mayor of Cambridge and one of the Hospice's chaplaincy volunteers.
Ely Cathedral Choir contribute an atmospheric recording of a carol from a previous year and Sing! Choirs – who have supported the event for many years – provide charming musical bookends with heart-felt renditions of Wings (Birdy) and Run (Snow Patrol).
Many will recognise familiar faces from the Hospice in the film. During the Sunday premiere, a segment of the film featuring clinical and supportive colleagues each holding a lit candle received a lot of love and interaction as it was broadcast live on YouTube.  A handful of the touching dedications added to the back of Light up a Life stars – hundreds of which have been sent back to the Hospice by families or friends with messages about their loved ones – were also shared throughout the film.  Caroline was one of those who took a moment during the live broadcast to comment on the Hospice's Facebook page, saying:
"It was an amazing event even though it was virtual. It was lovely seeing the members of staff holding candles. I even got a slight glimpse of my star dedicated to my Mum."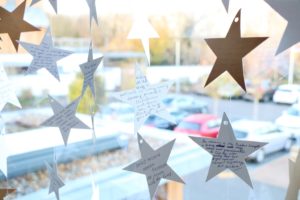 All the stars returned to Arthur Rank Hospice Charity have now been hung in the long windows of the Education and Conference Centre, above the Hospice's main entrance.  Those who wish to, can view them from the carpark, albeit from a distance. Anyone visiting to see these, or the Christmas tree lights, is requested to please park in Babraham Park and Ride, so that spaces in the Hospice's own car park remain available to patients and their visitors (Blue Badge holders are invited to contact the Hospice on 01223 675777).
More than 1000 dedications were made in memory of loved ones this year for Light up a Life.  Dedications made before 18 November were included in the Commemorative Booklet, a copy of which is being posted to everyone who has made a donation. Dedications made after 18 November are now being included in a digital addendum which can be downloaded digitally at arhc.org.uk/lual.
Arthur Rank Hospice would like to extend its grateful thanks to: headline sponsors Peasgood & Skeates, and to East of England Co-Op Funeral Services who sponsored the Christmas tree and its installation; millriver tv for their compassionate approach to such an unusual project; Ely Cathedral and Sing! Choirs for their generous contributions; Chris Banks and Martin Harwood who have been involved in creating the tree light displays for the last 20 years; Event Sparx for supplying electrical equipment and Adam Swain for his continued support and expertise; everyone at the Hospice including colleagues, volunteers, patients and families who made the film premiere possible; and all those who have made dedications and who have watched and shared the film.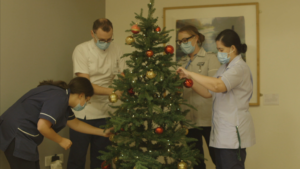 Donations to the Light up a Life appeal will help towards the £4.27 million which needs to be raised by the Hospice this year, to help keep providing essential care to people living in Cambridgeshire with an advanced serious illness, or other life-limiting illness, and those who need end of life care. Thanks to the invaluable support of the local community, over 4,100 patients are cared for each year free of charge at the Hospice's home in Shelford Bottom, the day treatment centre in Wisbech and in people's own homes across Cambridgeshire via the Arthur Rank Community Team.