National Three Peaks Virtual Challenge
Arthur Rank Hospice Charity

1st August 2021 - 31st October 2021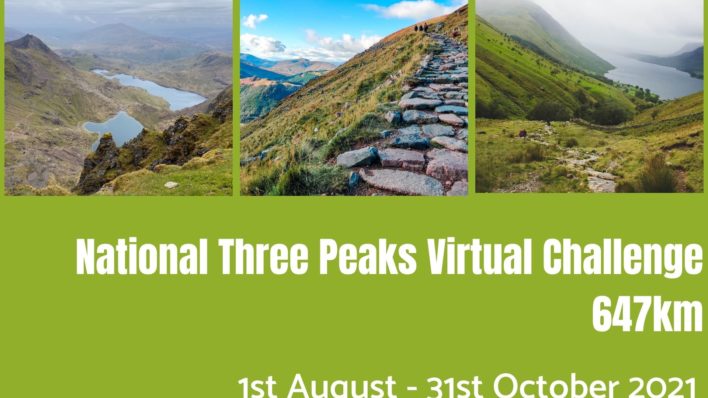 EARLY BIRD RATE OF £10  – ENTER EARLYBIRD21 AT CHECKOUT
The challenge of the year! You are invited to complete the National Three Peaks Virtual Challenge however you wish between 1st August and 31st October 2021.
The total length of the challenge is 647.34 km and this can be completed by running, walking, jogging, cycling, swimming, rowing etc; whichever is your sport of choice.  Link your activity tracker to Strava which will automatically pull the data into our interactive map or upload your activity manually. (1km is the average of walking 1312 steps)
A fully automated leaderboard will keep the challenge alive, who will get there first?
The entry fee for each individual is £15 and includes dedicated support from a member of our fundraising team for the duration.
2020 was due to be the Year of the Nurse and Midwife but, due to the pandemic, we have extended into this 2021 and we would love it if our paricipants could fundraise £209 which could cover the cost of a nurse's shift. Reach £50 on your fundraising page and receive a FREE neck buff.
CLOSING DATE FOR ENTRIES: 1ST SEPTEMBER 2021
EARLY BIRD RATE OF £10  – ENTER EARLYBIRD21 AT CHECKOUT
How it works:
Sign up to the National Three Peaks Virtual Challenge.
Enthuse will prompt you to create a fundraising page where you can ask your friends, family or colleagues to support you on your challenge.
Record your activity every day from 1st August to 31st October 2021 by using your activity tracker linked to Strava or upload your activity manually.
If you are feeling competitive with friends, family or colleagues, sign up as a Team and watch your progress on your team interactive map.
Your fundraising page will include an interactive map showing how far you have reached on the Challenge.
Complete the distance by 31st October and be proud of an amazing accomplishment all whilst supporting the vital work of Arthur Rank Hospice.
Covid-19 Considerations
We know that government restrictions can often change from one week to the next so we have designed this challenge to ensure you can take part wherever you might find yourself. If you find yourself in a local lockdown, in quarantine or any other situation where you may find your outings limited, convert your daily steps to kms and upload your progress.  You will be surprised how far you can walk in a day!
Please get in touch with Alison Pinney by emailing alison.pinney@arhc.or.uk or calling 01223 675888 if you have any further questions or would like to enter a large team as rates can be negotiated.